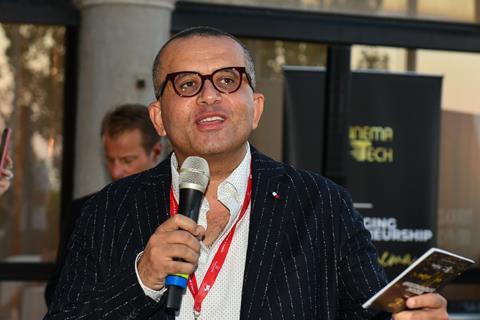 Egypt has been undergoing a tech-driven start-up boom over the last 18 months and this phenomenon is now trickling over into the country's film industry.
CinemaTech, a new initiative aimed at fostering entrepreneurship and technology-based start-ups within Egypt's cinema sector, is catching this wave.
Since its creation in 2020, it has supported some 20 start-ups, via mentorship, training and investment, and now has plans to expand its reach into Africa. Projects supported to date include a company specialised in developing and designing interactive cinema experiences; an app enhancing cinema-going for hearing-impaired spectators, and an Arabic-language scriptwriting tool.
The initiative is the brainchild of Adly Thoma, a former business manager and management consultant at technology and energy supply giant Schlumberger, who has been the CEO of Cairo-based investment company Gemini Africa since 2018.
A subsidiary of the vast Orascom Group of Egypt's billionaire Sawiris family, the company's remit is to support the growth of an entrepreneurial ecosystem in Egypt and across Africa. One of its areas of focus is the creative industries and within that the film industry.
"Our aim at Gemini is to support untapped business potential from an entrepreneurial perspective. The cinema sector in Egypt is ripe for such an approach," says Thoma.
The CinemaTech journey began at the El Gouna Film Festival in 2020 after Gemini Africa put out its first call for cinema-focused start-up projects in the autumn of 2020.
"We received hundreds of applications. We did our homework, made a shortlist and invited this short list to El Gouna for training and a prize-winning pitching session," explains Thoma.
The winners comprised Hall Of Talents, a networking platform for filmmakers, artists, and industry professionals; Droovy, an interactive cinema design and development company, and Egyptian Cinema Experience, a tech-based, next-generation museum using technology such as VR to allow visitors to interact with the exhibits.
"It was the first entrepreneurial pitching session to ever take place in a film festival in the world and we're proud to have created this IP," says Thoma.
He was back at the El Gouna Festival (October 14-22) this year with 11 new projects and a second round of pitches on October 15. This year's winners comprised Stepinside, a virtual tour tool that can be used for virtual location scouting and databases, online collaborative platform 'INTmedia', and audio production facility 'QuadA'.
Thoma has also taken the project to Upper Egypt through a partnership with the Aswan International Women Film Festival (AIWFF), which runs in June.
"Upper Egypt is one of the country's most underprivileged areas. We ran a three-month programme which culminated in a pitching event at the festival, which is a small, not like El Gouna, Venice or Cannes, but it was kind of a breakthrough moment," says Thoma.
Projects to come out of the initiative included Moviette, a tool to help film-makers measure audience preferences and tastes using big data and AI; Raccord, a continuity software aimed at detecting differences between cuts, and Dolaby, software digitising costumes and decors for different eras to support the work of art directors.
CinemaTech has also continued supporting the development of its El Gouna 2020 winners. Over the summer, it worked with Droovy to organise a VIP interactive cinema event against the backdrop of Pyramids, allowing guests to decide the end of 2007 thriller The Island (El Gezira), starring Hend Sabry (aka Hind Sabri) and Ahmed El Sakka.
"Each guest was sent a QR, allowing them to decide whether Hend's character would live or die. It was a challenge to organise because we had to ensure there was enough mobile coverage for the 900 guests," says Thoma.
In the case of Hall Of Talents, CinemaTech helped the founders find backers and set up a company. More generally, the participants receive mentorship as well as training in key aspects of launching and running a company like project management and marketing.
These activities are supported by a high-profile board of trustees including Orascom managing director and CEO Naguib Sawiris, film and TV acting stars Hend Sabry, Raya Abirached, Shereen Reda, director Marwan Hamed, DoP Ahmad Al Morsy, producer Tamer Mortada, Alaa Karkouti, co-founder MAD Solutions and the Arab Cinema Center (ACC), and Amir Ramses, film director and artistic director of the El Gouna Film Festival.
"It isn't only about investment. Being selected and part of Gemini Africa can also help paticipants go out to the market to seek investment. The main priority for us is making sure each of our winners is getting the support they need. We want to create success stories," says Thoma.
He suggests that sometimes simply attending the pitching sessions, where participants get to network with established business and tech professionals, is a help in itself. "One of last year's El Gouna participants came to me last year and said, 'You've saved me seven to eight years in my career by inviting me here.' In Aswan it was more brutal. The participants told us we had given them hope by listening and believing their dreams."
Having touched down at the Venice Production Bridge in September to promote the programme and unveil the board in a special event, Thoma is now planning trips to the Berlinale's European Film Market next year and is in talks with to hold one of CinemaTech's pitching events at the Marché du Cannes.