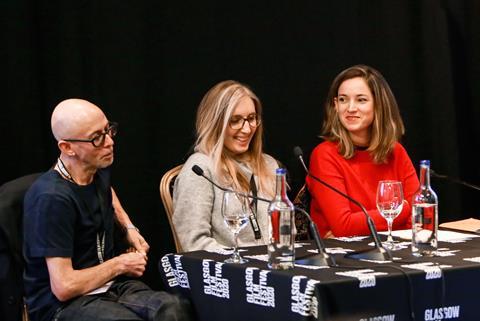 Parasite won the Oscar for best picture and is setting box-office records for non-English-language films in several territories, including the notoriously challenging UK market, where it has now grossed £10.4m and counting.
Is this a sign of the potential for a new arthouse cinema boom? That was the question posed at a Glasgow Film Festival industry panel supported by Creative Europe Desk UK, on Tuesday (March 3).
Jason Wood, creative director at Manchester's HOME cinema and co-founder of new distributor Anti-Worlds, said he was "naturally a pessimist" but it was hard to deny the current arthouse successes at his venue. "For the last five weekends, I've seen my record be beaten, playing a fairly steady diet of arthouse films. Obviously, that's led by Parasite but also Portrait Of A Lady On Fire has opened to very good business. And Mr. Jones has done well.
"We can't be complacent about this positivity, we have to continue to lead audiences to new experiences."
Ewa Bojanowska, festivals and marketing executive at Poland-based New Europe Film Sales, which recently sold the Oscar-nominated Corpus Christi, added, "Of course Parasite winning the Oscar for best picture opens doors for other foreign-language films. But there is still this huge number of arthouse films that never get seen by an audience outside their country, or outside of festivals."
She said she had noticed a bigger gap in the independent film world. "The big arthouse hits get sold worldwide. But there are films that just go to a single territory. A few years back we had more of a balance of films that might go to 10 or 15 territories. Now either you go all the way or you do the small deals and small festivals."
A theatrical release, especially a global one, shouldn't necessarily be the aim for all independent films.
"It's important for filmmakers to know what kinds of films they are making, there are some films will play better with festival audiences," said Bojanowska. "You can make money on festivals with screening fees, you can travel the world just with festivals and have a huge audience. And combining festivals with smaller VOD platforms in different countries as well, you can actually get an audience."
Brazilian producer Emilie Lesclaux of CinemaScopio, attending GFF with Cannes Competition selection Bacurau, said,audiences seem particularly drawn to films that have something urgent to say about contemporary society, such as Parasite and Bacurau. The latter, directed by Kleber Mendonça Filho and Juliano Dornelles, is a genre-bending Western-drama-thriller inspired by modern Brazilian socio-politics.
Bacurau connected with audiences in Brazil – more than 800,000 admissions so far—in part because it was available at a wide range of venues: the high-end, high-ticket-price luxury cinemas and more affordable neighbourhood cinemas, with both audiences including younger viewers as well.
The team also offered free screenings in targeted community spaces and favelas. "That also built word of mouth," Lesclaux explained.
Lesclaux speculated the streaming giants had opened audiences' minds to films from more territories.
"With the streaming services, people have access to films from all over the world, and subtitled films, so from this point of view it creates more of an open mind to see different kinds of films," she suggested
While there are some great examples of these recent hits, arthouse distribution is still a very competitive marketplace to enter and the UK market can see 15-23 films released theatrically per week.
In this light, Wood explained why he decided to set up a new distributor, Anti-Worlds, with producer Andy Starke, PR specialist Zoe Flower and former BFI head of video Sam Dunn, in such a challenging space.
"We were traveling to festivals and seeing some films that we loved and thought were interesting, and they weren't getting distribution [in the UK," he explained.
Most of Anti-World's releases have so far been documentaries with a niche target audience (Penny Slinger-Out of the Shadows) or have had genre elements (Holiday, Dogs Don't Wear Pants).
Yet even with strong reviews Anti-Worlds has struggled to find enough screens for its films, Wood said. "We can't get them booked into cinemas, and that's including cinemas that sell themselves as arthouse exhibitors."
Even if these films do get on screens, there usually isn't enough time to build word of mouth. "Ten or 15 years ago a film could open quite small and build," Wood explained. "That's gone because there are another seven or eight films coming up. You don't get that time in cinemas."
Wood was careful to emphasise his belief a film's success is not just down to box-office returns. "We need to be careful to not just a film jut on how much money it makes. There are other criteria to judge cultural artifacts. I once did a season of James Benning films…there were 20 films and maybe 12 people came. But one 60-year-old man had never been to a cinema before, for me that means more than making money. A film can be a success without necessarily being a financial success."
He agreed welcoming younger audiences, with affordable tickets and approachable spaces, will be important. "If there is going to be a sustained arthouse boom, we need to make sure we're appealing to new audiences and emerging audiences."
Rapman's Blue Story was one recent film to attract a younger audience into HOME, after the HOME team did a lot of specialised outreach.
Lesclaux was ultimately optimistic his arthouse "boom" would continue. "People want to be together in tougher times. People wanted to unite over films or art."