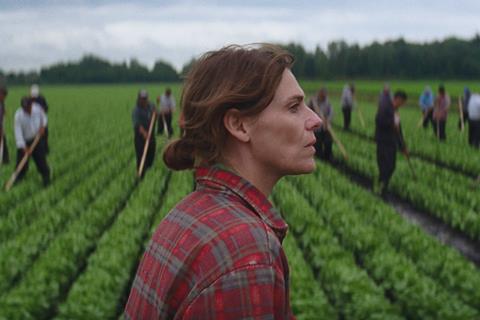 Ivan Grbovic's Drunken Bird (Les Oiseaux Ivres) will represent Canada in the best international feature film category as its official Oscar submission.
Telefilm Canada executive director and CEO Christa Dickenson said on Monday (October 4) that 10 films had been submitted to the pan-Canadian selection committee, adding: "Telefilm will support the film's team on this exciting journey. This vote of confidence is a phenomenal springboard for these creators and a terrific opportunity for Canada to demonstrate the excellence of its film industry."
Grbovic and Sara Mishara co-wrote the film produced by micro_scope. It premiered at TIFF in the Platform programme and will open on October 15 through Les Films Opale. WaZabi Films handles international sales.
The story centres on a migrant Mexican worker's quest to find his lost love which takes him from Mexico to Canada where he is hired as a seasonal worker at the Bécotte farm near Montréal. Fates intertwine, worlds meet, tensions rise, and moments of magical realism arise during the long work days. Jorge Antonio Guerrero, Claude Legault, Helene Florent, Yoshira Escárrega and Marine Johnson star.
Eight Canadian films have been nominated in the category (formerly known as best foreign language film) over the years and Denys Arcand's The Barbarian Invasions is the only Canadian film to have won the Oscar in 2004.
The other previous nominees are: Kim Nguyen's War Witch (Rebelle) in 2013; Philippe Falardeau's Monsieur Lazhar and Agnieszka Holland's minority co-production with Poland and Germany In Darkness in 2012; Denis Villeneuve's Incendies in 2011; Deepa Mehta's Water in 2007; and Denys Arcand's Jesus Of Montreal in 1990, and The Decline of The American Empire in 1987.
Telefilm Canada chaired the pan-Canadian selection committee and did not have a voting right. The committee comprised around 20 members from key government agencies and national film industry associations.
The shortlist of 10 films in the category will be unveiled on December 21 and the five official nominees will be announced on February 8, 2022.