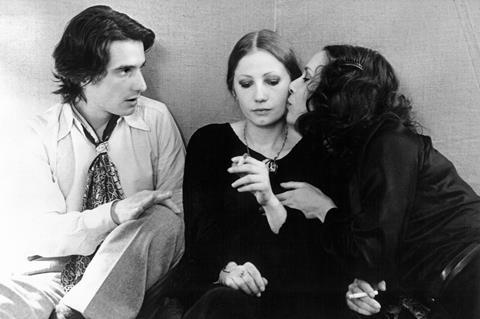 Paris-based Les Films du Losange has posted a raft of fresh deals on the restored 4K catalogue of late French filmmaker Jean Eustache, whose cult drama The Mother And The Whore opens Cannes Classics on Tuesday.
It has sold to Spain (Filmin), Japan (Mermaid Films), Portugal (Leopardo), Switzerland (Cinémathèque Suisse) and Italy (I Wonder).
New York-based distributor Janus Films, a sister company to classic film label The Criterion Collection, announced earlier this month it had acquired the catalogue for North America as well as the UK and Ireland.
These deals follow Les Films du Losange's recent acquisition of the Eustache catalogue and its resulting 4K restoration. Prior to the deal, exploitation of Eustache's films had been blocked for several decades and it was extremely difficult to obtain copies of his work for retrospective programmes.
Eustache belonged to a generation of filmmakers who followed immediately in the wake of the New Wave pioneers Jean-Luc Godard, François Truffaut, Jacques Rivette and Eric Rohmer.
The Cannes Classics screening of the love-triangle drama The Mother And The Whore falls just one year shy of the 50th anniversary of its original world premiere in Competition in Cannes in 1973, where it won the jury grand prize
Mixing fact and fiction, the screenplay was inspired by the director's own torrid love life, oscillating between Françoise Lebrun, Marinka Matuszewski and ex-girlfriend Catherine Garnier. Lebrun featured in the cast with Jean-Pierre Léaud and Bernadette Lafont.
The feature gained tragic notoriety after Garnier, who had participated in the production, committed suicide a few days after the film's Cannes triumph. Eustache would also die in the same way in Paris in 1981 at the age of 42.
Les Films du Losange is planning a 100-screen wide theatrical re-release of the film in France on June 8..
The restored catalogue consists of five feature-length works and six short films. They include My Little Loves, Les Photos d'Alix, Santa Claus Has Blue Eyes, which won Critics' Week in 1966.