The Turkish-German filmmaker on Cannes, Netflix and feeling like "the enemy" in his own country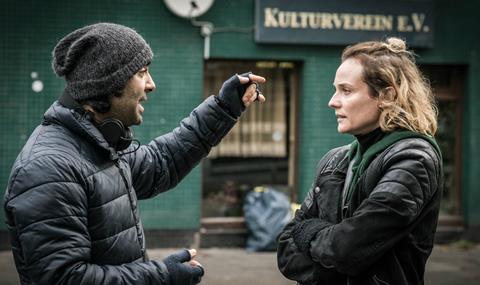 Turkish-German filmmaker Fatih Akin is back in Cannes with In The Fade, following his last Competition entry The Edge Of Heaven which was awarded best screenplay in 2007. His documentaries Polluting Paradise (2012) and Crossing The Bridge: The Sound Of Istanbul (2005) have also screened out of competition at the festival.

Revolving around real-life events involving the neo-Nazi group National Social Underground (NSU), Akin's revenge thriller focuses on a mother (Diane Kruger) who seeks justice after she loses her husband and son in a terrorist attack. Akin, whose Turkish parents emigrated to Hamburg in the 1960s, takes his anger out on the notorious group, who perpetrated a series of xenophobic murders in Germany between 2000 and 2007, with In The Fade's narrative, which sees Kruger's Katja plotting revenge on her family's killers.

Before the film's Cannes premiere, Akin spoke to Screen about working with Kruger in her first leading German-language role, the film's Cannes-focused production schedule and his support of streaming services such as Netflix. The Match Factory is handling international sales on the film.

How does it feel to be back in Cannes?
It feels like I am back, but there is pressure. It gets more and more difficult to come here. I would be happy with any selection, just give me that logo on the poster.

Why Cannes, and not Berlin, or another major festival?
For me, Cannes is the most important place to sell the film. That is why we worked on the film very quickly. We started shooting in October, finished in December, and then we edited for three months. I was still editing two weeks ago, which is why it is good this is screening so late.

What were the reasons that drove you to make this film?
The NSU scandals were a huge scandal in Germany in 2011. I was very angry when I heard what happened and that anger drove me me to write this. As I started writing, other layers and characters were created to make the story believable. So it's a character-driven film more than a revenge or political thriller. It's more about the evolution of grief, and what happens to a mother when you take her kids away from her. How does she continue to live?

How did you come to cast Diane Kruger as the mother?
I met Diane in 2012 at a party in Cannes for my documentary Polluting Paradise. She started talking to me in German, and said she would love to work with me if the opportunity arose. I kept my word. Four years later, I started working on the screenplay for In The Fade, and I immediately thought of her. She's waited years for a big German-speaking role. She grew up in Hanover and considers herself German. It was a contrast to her usual English or French-speaking roles, she had the opportunity to express herself more freely.

Josh Homme from the band Queens of the Stone Age composed the score, which was his first for a feature film. What led you to work with him?

I listened to a lot of Queens of the Stone Age when I was writing the screenplay. They have these fatalistic songs, and it came to me that fatalism was the right attitude for this film. Josh Homme saw a rough cut of the film and he liked it; maybe it hit the same nerve where his songs come from. He was busy finishing the group's new album so he had only a short time to do it but he managed to make this unique, sad and beautiful score. I've always wanted to do a thriller or at least work with some elements of that genre. Integrating this music has definitely given the film that quality.
How do you think the film's story ties in with current extremist groups?
It disturbs me to be an enemy, just because I am who I am: the son of Turkish parents with brown hair and brown eyes. Or that you live in the West, and that you could be a target simply because of where you are from. We do not defend a political ideology but somehow we are targets. The only thing I can do is strike back with a film. My film is a strike-back.

Would you make a film in the US?
I like the US a lot. People are from everywhere, coming together. And I am inspired by cinema over there - more than European cinema. Sooner or later, I will definitely work over there. I've been talking with studios for more than ten years, but it has to be the right thing. Plus, I have a wife and kids.

What are your thoughts on streaming giants such as Netflix providing the main platforms to see a film?
Netflix Germany has been in touch with my office. To not support them is like being against globalisation. If you are against globalisation, you are not moving forward. Here is my example, and I don't mean to sound like Will Smith. I wanted to see Toni Erdmann in the cinema with my wife, but we have two kids. In the good old days, I would watch three to four films in the cinema a day, now I see around three a month. So we organised a babysitter for three hours but when we got to the theatre, it was sold out. Three weeks later, we tried again, and again it was sold out. We realised the film is on Amazon. I have a big television, and we really enjoyed it. We were happy to see the film finally. While I defend small cinemas, if your movie doesn't succeed in the first week, they kick your movie out. If the world changes, you can either go back in your snail house, or you decide to move forward and use the technology.