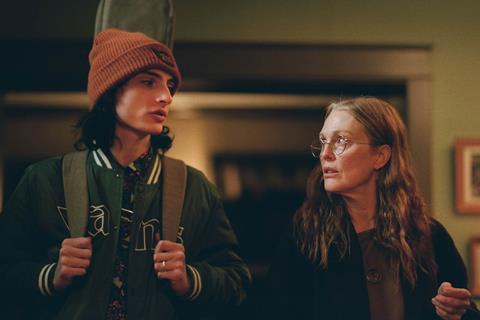 Cannes Critics' Week, the parallel section focused on first and second films, has unveiled the line-up for its 61st edition, running May 18-26.
The section will showcase 11 features, seven of them in competition, and another 13 shorts.
It is the first selection piloted by incoming Critics' Week artistic director Ava Cahen, since taking over the reins from Charles Tesson, who stepped down at the end of last year's 60th edition after 10 years at the helm.
At 36, she is the youngest person to take up the role in the 60-year history of the section and only the second female artistic director after Claire Clouzot who held the role from 2002 to 2004.
A total of 1,700 short films and 1,100 feature-length films were submitted this year. Alongside Cahen, the feature selection committee includes film critics and journalists Miquel Escudero Diéguez, Marilou Duponchel, Bruno Icher, Pauline Mallet and Frédéric Mercier.
The short film selection is piloted by Clémentine Dramani-Issifou, with the support of Damien Leblanc, Thomas Fouet and Marie-Pauline Mollaret.
Special Screenings
The 2022 edition will open with the international premiere of US actor Jesse Eisenberg's directorial debut When You Finish Saving The World, which world premiered at Sundance earlier this year to strong reviews.
The contemporary family comedy-drama stars Julianne Moore as a politically-engaged mother opposite Stranger Things star Finn Wolfhard as her disengaged, aspiring musician son. There was no confirmation as yet on which cast members will attend.
Two French directors will also world premiere their new films as Special Screenings.
Clément Cogitore, whose Afghanistan-set first feature The Wakhan Front debuted in Cannes Critics' Week in 2015, returns with Sons Of Ramses.
The film, previously announced with the English-language title Gold Drop, is set in Paris's multicultural district of La Goutte d'Or. Rising French star Karim Leklou plays a young fraudster who makes a living as a clairvoyant, pretending he can make contact with the dead until one fateful night he is forced to confront the ghosts.
Céline Devaux will show her innovative first film Everybody Loves Jeanne. The hybrid work mixing animation and live-action stars popular comedy actress Blanche Gardin as a woman battling with her inner voice, represented as a witty animated creature called "Little Ghost". Laurent Lafitte co-stars.
Also screening out of competition is Korean director July Jung's feminist police thriller Next Sohee, which has been selected as the closing film. Korean star Bae Doona plays a tough detective investigating strange goings-on at a call centre. Jung was last in Cannes with detective drama A Girl At My Door, which debuted in Un Certain Regard in 2014. Doona will also be in Cannes this year as the co-star in Hirokazu Kore-eda's Palme d'Or contender Broker.
Competition titles
The seven-title competition line-up features UK director Charlotte Wells' first film Aftersun, in which a woman reflects on her relationship with her father as she watches home videos of a Turkish beach holiday 20 years previously. Paul Mescal and newcomer Francesca Corio co-star.
From Belgium, Emmanuelle Nicot makes her feature debut with the daring drama Dalva, exploring the ramifications of incest and child grooming through the tale of a 12-year-old girl who is taken into foster care after being abused by her father.
France is represented by 26-year-old filmmaker Simon Rieth's fantasy teen drama Summer Scars about two brothers who play a deadly game of chance while on holiday in the French beach resort of Royan over the hot summer of 2011.
Two of the films in this year's selection have participated in Critics' Week initiative Next Step aimed at helping directors who have shown shorts in the section move onto their debut feature.
Portuguese-French director Cristèle Alves Meira, who has shown three short films in Critics' Week, will present debut work Alma Viva (previously titled Bruxa). It follows a French-Portuguese teenager on a mission to secure a gravestone for her beloved, late Portuguese grandmother, to appease her troubled soul.
Finnish Mikko Myllylahti's The Woodcutter Story, which won the Next Step prize in 2019, has also been selected. The debut feature film revolves around a woodcutter who mysteriously retains his cool when his serene existence in an idyllic village is shattered by a series of tragic events.
Myllylahti was previously in Cannes as the co-writer on Juho Kuosmanen's The Happiest Day In The LIfe Of Olli Mäki which won Un Certain Regard in 2016.
Selections from outside Europe comprise Colombia director Andrés Ramirez Pulido's first film La Jauria, set against the backdrop of an experimental correctional centre for young delinquents in the middle of the jungle, and Ali Behrad's Tehran-set road movie Imagine, which is the first Iranian film to play in Critics' Week in nearly 20 years.
In the shorts line, 10 titles will screen in competition including London and Athens-based visual artist Evi Kalogiropoulou's On Xerxes' Throne and award-winning Chilean director Diego Cespedes's Las Criaturas Que Se Derriten Bajo El Sol. The short selection also features a trio of works by more established directors including Yann Gonzalez with UK production Hideous.
As previously announced, Tunisian director Kaouther Ben Hania will preside over the jury, comprising French-Greek actress and director Ariane Labed, Icelandic director Benedikt Erlingsson, Belgian cinematographer Benoît Debie, and South Korean journalist, film programmer and director of Busan International Film Festival Huh Moonyung.
The Cannes Critics' Week 2022 Selection
Special Screenings
When You Finished Saving The World (US) (Opening film)
Dir. Jesse Eisenberg
Sons Of Ramses (Fr)
Dir. Clément Cogitore
Everybody Loves Jeanne (Fr)
Dir. Céline Devaux
Next Sohee (S Kor) (Closing film)
Dir. July Jung
In competition

Aftersun (UK-US)
Dir. Charlotte Wells
Alma Viva (Fr-Port)
Dir. Cristèle Alves Meira
Love According To Dalva (Bel-Fr)
Dir. Emmanuelle Nicot
La Jauría (Col-Fr)
Dir. Andrés Ramírez Pulido
Summer Scars (Fr)
Dir. Simon Rieth
Imagine (Iran)
Dir. Ali Behrad
The Woodcutter Story (Fin-Den-Neth-Ger)
Dir. Mikko Myllylahti
Short film competition
Canker (China)
Dir. Lin Tu
Las criaturas que se derriten bajo el sol (Chile-Fr)
Dir. Diego Cespedes
Chords (Sp)
Dir. Estibaliz Urresola Solaguren
Will You Look At Me (China)
Dir. Shuli Huang
Ice Merchants (Port-UK-Fr)
Dir. João Gonzalez
It's Nice In Here (Neth)
Dir. Robert-Jonathan Koeyers
I Didn't Make It To Love Her (Bos-Sp-UK)
Dir. Anna Fernandez De Paco
On Xerxes' Throne (Gr)
Dir. Evi Kalogiropoulou
Manta Ray (Fr)
Dir. Anton Bialas
Swan In the Center (Fr)
Dir. Iris Chassaigne
Short special screenings
Amo (Fr)
Dir. Emmanuel Gras
Hideous (UK)
Dir. Yann Gonzalez
Scale (Fr-UK-Czech Rep-Bel)
Dir. Joseph Pierce