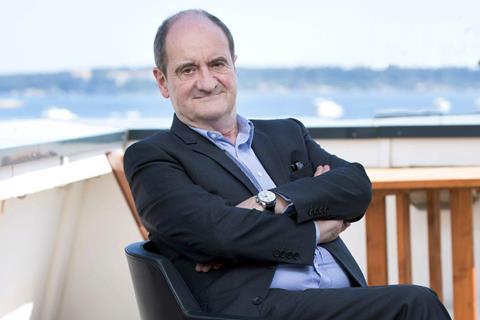 The Cannes Film Festival (July 6-17) has offered fresh encouragement to international industry and press that hope to travel to the event next month, amid evolving pandemic restrictions around travel.
Festival president Pierre Lescure said at a press conference today (June 3) that he anticipated a decision from the French government in the next day or two concerning travel from the UK and also addressed the challenges of accredited guests from the US.
"A number of questions have been asked of us with regards to the UK, where the European and French announcements have not been set… Within 36 hours, we will have all the updates regarding the so-called 'green countries' and 'red countries," said Lescure.
This was in reference to how the health situation of countries will be classified by France's ministry of foreign affairs. Their status as green or red will inform the rules of entry to the country.
"All the countries in the green zone will have their citizens carry a European health pass and will be able to access the festival without a problem," said the festival president, reiterating fresh rules that were outlined last week.
It follows the recent introduction of tougher travel restrictions by the French government, which imposed a seven-day quarantine on visitors from the UK following a rise in cases there of the Delta variant of Covid-19.
"With the United States, there's another problem," he continued. "French citizens living in the US and our American friends can come without an issue… but we don't know if their return will be as easy, simple and organised."
Lescure said an upcoming visit by US president Joe Biden in 10 days would help clarify the situation.
He added that countries on the red list, which currently stands at 16, are being discussed with the French government "so that teams and reporters should be able to come in acceptable conditions without any quarantine". However, he acknowledged: "It's going to be very difficult."
"I wouldn't like to make an announcement because the services of the prime minister will make precise announcements within 48 hours that will update and refine all the conditions," added Lescure.
"That will address the French population but also the [festival] organisation, which is the first global, cultural event that will welcome a lot of people to France… Some 36 hours from now, you and we will have all the updates about the [festival] for the so-called green and red countries."
A recent announcement from the festival stated that admission to the event would require a certificate of full vaccination; a negative test result, issued no more than 48 hours prior; and proof of immunity via a positive antibody or RT-PCT test.