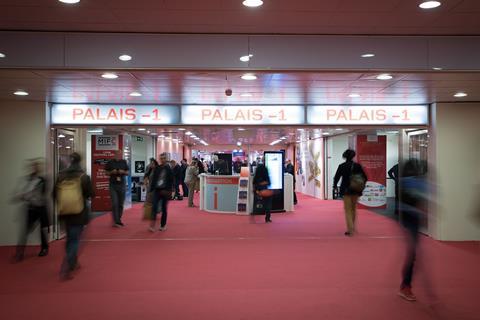 Some buyers in the Cannes Marché are being priced out of acquisitions they would normally expect to make while others are talking of asking prices "30%-50%" higher than before the pandemic.
One leading Scandinavian head of sales said the asking price for the bigger US packages, such as Lionsgate's Hunger Games prequel was up to twice what it would have been before the pandemic.
Other titles making buyers' eyes water include Miramax's latest Jason Statham picture called The Beekeeper (which one distributor suggested only a studio would be able to afford) and Anton's Canary Black.
On the arthouse front, another key multi-territory buyer talked of a "new premium" on films in official selection.
The price is hike is down to rising production costs due to both Covid and demand on cast and crew, and also competition from streamers. But distributors have been suffering during lockdowns and are not always in the position to meet the new asking prices.
"What happened five years ago or so is the streaming companies were paying these huge numbers so no-one could compete and the agencies were closing bigger deals than I've ever seen and they've got used to asking these prices. Given what's been going on with Netflix [poor Q1 earnings report, lay-offs] I doubt they're paying these numbers any more," one US source observed.
Another source said with challenges selling into China and Russia and most of Asia not attending the market, sellers are trying to compensate for lost revenue from those markets by ramping up prices in other territories.
Laura Wilson, head of development and acquisitions at UK-based Altitude Media Group, pointed out the projects buyers are circling are all driven by cast. "It is all very reliant on a handful of names," she said. "Last year, there was Bruce Willis. This year, there are a lot of Frank Grillo projects."
Some sellers say they do not want to push their buyer clients too hard and are not always passing on the rise.
"We try to but they pass it straight back!" said Luc Roeg, CEO of London-based Independent Entertainment. "But if the project has enough value for them, they'll do what they can to meet the demands of it."
"We have not increased our asking prices because we are aware of the circumstances for the distributors and we have to find different ways to finance the production costs," said Thorsten Ritter, EVP acquisitions, sales and marketing at German outfit Beta Cinema.
"That is also something that is very different from the Anglo-Saxon perspective where you have to do pre-sales and sales to bring back the money to cover the production costs," he suggested. "In continental Europe and other parts of the world, you usually have a lot of soft money involved in the financing so the pressure of recouping on the international sales is different. We don't have to align our asking prices with the rise in production costs."
The pain is being felt at every level of the market as the industry scrambles to recover Covid losses.
"Films didn't sell for two years so there is a need to cover past costs and expenses, over and above general inflation," said Flavio Donnini of Rome-based sales agent Ellipsis Media International. "Theatres have been closed, so there is the forced attempt to recover the lost years of income, which obviously is difficult to do,"
In the feature doc space, budgets have also been creeping up.
"We used to work in the range from €500,000 to €1mn. Now, it is €1m-€2m for one project," said Salma Abdalla of Vienna-based Autlook Film Sales, which handled recent Oscar nominee, Writing With Fire.
Does she pass on the costs to her buyers? "Partly, yes…if you're working with some of those big players, they can take care of it but when it comes to sales in Europe, certain territories are still facing a challenge in the theatrical market," Abdalla explained why Autlook maintains a flexible strategy with its buyers.
Additional reporting by Jeremy Kay and Alina Trabattoni