French Film Directors Guild to fete German legend.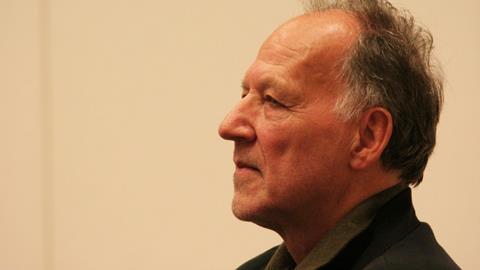 Werner Herzog will be honoured with the Carrosse d'Or (Golden Coach) award during Directors' Fortnight, the section which runs parallel to the Cannes Film Festival (May 17-28).
The annual honorary prize is granted by the French film directors guild, Société des Réalisateurs de films (la SFR).
In a letter to the director, the SFR selection committee said the award will pay tribute to Herzog's "relentless energy and great creativity, (his) ability to juggle formats, production norms and systems, and to blur the lines between fiction and documentary, feature films and television, reason and madness."
They added: "We also pay homage to your leadership and your powerful capacity to pull in Hollywood stars as well as unknown people and amateurs, and to the way you impose your distinctive tone and vision, flouting moral conventions and political correctness."
German-born Herzog has been a filmmaker since the early 1960s, and is best known for his collaborations with Klaus Kinski, including Aguirre, The Wrath Of God, Fitzcarraldo and Nosferatu The Vampyre.
His latest film is Netflix volcano documentary Into The Inferno.
The award will be presented at the Directors' Fortnight opening ceremony.
The Carrosse d'Or prize was launched by the SFR in 2002 to celebrate directors whose films are "innovative", "audacious" and "uncompromising" in their mise-en-scène and production.
Past recipients include Jane Campion, Clint Eastwood, Nanni Moretti, David Cronenberg, Naomi Kawase, Agnès Varda, Jafar Panahi and Nuri Bilge Ceylan.
Last year's recipiant was Aki Kaurismaki.
The full lineup of Directors' Fortnight will be unveiled in mid-April.