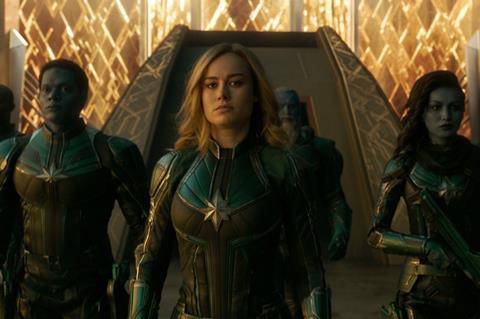 Today's GBP to USD conversion rate: 1.32
| | | | | |
| --- | --- | --- | --- | --- |
| Rank | Film (Distributor) | Three-day gross (Mar 15-17) | Total gross to date | Week |
| 1 | Captain Marvel (Disney) | £6.7m | £23.6m | 2 |
| 2 | Fisherman's Friends (Entertainment Film) | £1.2m | £1.2m | 1 |
| 3 | What Men Want (Paramount) | £840,000 | £840,000 | 1 |
| 4 | The LEGO Movie 2 (Warner Bros) | £643,000 | £17.5m | 6 |
| 5 | Fighting With My Family (Lionsgate) | £631,431 | £4.6m | 3 |
Disney
Disney blockbuster Captain Marvel held the top spot at the UK box office on its second weekend, adding £6.7m for a £23.6m total to date.
The film played at 665 sites, bringing in a £10,216 site average. It fell 48% on last weekend's £12.8m opening.
That represents one of the lowest second-weekend drops of the first films for characters in the Marvel Cinematic Universe (MCU), suggesting strong word-of-mouth and audience appetite for a Marvel female superhero film. It beats 2008's Iron Man (fell 64% for £10.2m); 2011's Thor (fell 64% for £9.5m) and Captain America: The First Avenger (fell 61% for £6.9m); 2016's Doctor Strange (fell 63% for £15.7m); 2017's Spider-Man: Homecoming (fell 60% for £16.8m); and 2018's Black Panther (fell 61% for £29.5m).
It also performed better than Marvel Comics adaptation Deadpool, which fell 59% for £25.9m in 2016; and dropped less than the 66% second weekend of last year's Avengers: Infinity War, although that film had a mammoth £49m after two weekends.
From the MCU, only 2008's The Incredible Hulk (fell 43% for £6.3m) and 2015's Ant-Man (fell 37% for £9.6m) did better on their second weekends.
Compared to other standalone comic book character adaptations, Warner Bros' Wonder Woman dropped 45% on its second weekend in 2017 for a £12.8m cume, while Man Of Steel fell 55% for £21.3m in 2013 and Aquaman slipped 54% for £10.1m in December last year.
The UK drop is on a par with the 47% slide across Europe and 48% in Latin America, and ahead of the 55% in North America and 53% in Asia-Pacific (excluding China).
Elsewhere for Disney, Ralph Breaks The Internet dropped a slight 5%, adding £50,000 for £18.7m so far; Mary Poppins Returns added £30,000 for £44.2m; and Glass increased £19,000 for £10.9m.
Entertainment Film
UK singing group drama Fisherman's Friends scored a strong result for Entertainment Film, taking second place in the chart with a £1.2m three-day opening. Playing on 502 screens, it achieved a decent site average of £2,290 despite soft reviews.
Paramount
Fantasy comedy What Men Want opened in the third spot, with an £840,000 first weekend. It played in 495 locations, with a screen average of £1,696. This is down on the £3.4m opening of What Women Want, the 2001 title starring Mel Gibson of which the new film is a loose remake.
Instant Family dropped 30%, putting on £468,000 for £9.7m to date.
Warner Bros
The LEGO Movie 2 added £643,000, and has a new cume of £17.5m.
Lionsgate
Wrestling comedy Fighting With My Family continued its solid run with the fifth spot in the chart in its third week. It added £631,431 for £4.6m to date.
Universal
How To Train Your Dragon added £530,243 for £18.7m after seven weekends.
Everybody Knows widened to 85 locations after its strong start in just 54 last week, taking a further £100,469 for a £284,357 cume to date.
eOne
Best picture Oscar winner Green Book added £351,502 and sits at £9.1m after seven weekends.
On The Basis Of Sex added £44,815 for £1.4m after four, while If Beale Street Could Talk topped up by £24,086 to £1.5m.
20th Century Fox
The Kid Who Would Be King added £107,892 on its fifth weekend and for a cume of £3.4m.
Further Fox holdovers include Alita: Battle Angel, adding £78,076 for £9.2m after six weekends; The Aftermath, adding £75,131 for £1.7m after three; The Favourite adding £66,800 for £16.7m after 11; and Bohemian Rhapsody, still in the top 20 after 21 weekends and adding £62,541 for £54.7m.
Vertigo
Supernatural horror The Prodigy opened to £96,905 from 92 sites.
STX Entertainment
Ben Is Back, the addiction drama starring Julia Roberts and Lucas Hedges, opened with £81,872 from 114 locations for a disappointing £718 site average. It grossed £82,204 including previews.
Studiocanal
Liam Neeson crime thriller Cold Pursuit added £59,677 for £1.9m after four weeks on release.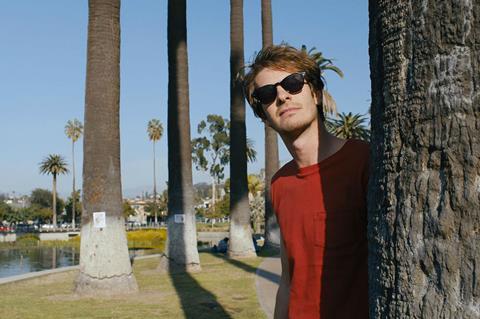 MUBI
David Robert Mitchell's modern noir Under The Silver Lake starring Andrew Garfield opened at eight sites, taking £11,390 across the weekend and £13,820 including previews.
Border added £31,435 on its second weekend for £146,127 total.
Picturehouse Entertainment
Capernaum took £22,184 on its fourth weekend for a cume of £415,558.
Verve Pictures
UK comedian Simon Amstell's debut theatrical release as director Benjamin made £32,236 on opening in 17 sites, including £11,546 from previews.
Thunderbird Releasing
The Kindergarten Teacher added £17,259 for £119,028 to date.
Curzon
Lukas Dhont's transgender ballerina story Girl, which won the Caméra d'Or at Cannes 2018, took £17,144 from 25 sites, nine of which were Curzon's own. It made £23,894 including previews. The film is Curzon's first significant release since Picturehouse Cinemas started a strict 16-week theatrical windows policy earlier this month, meaning it did not play in any Picturehouse venues.
Phoenix Productions
Polish crime drama Women Of Mafia 2 (Kobiety Mafii 2) is up to £352,483.
Dartmouth Films
Documentary Children Of The Snow Land, about Nepalese children leaving their mountain home for schooling, grossed £4,458 from two sites, playing at the Curzon Soho on Thursday and the Rio Dalston on Sunday.
Pinpoint Films
The Fight, a boxing drama directed by and starring Jessica Hynes, took £4,393 from 22 locations, for a small £200 average.