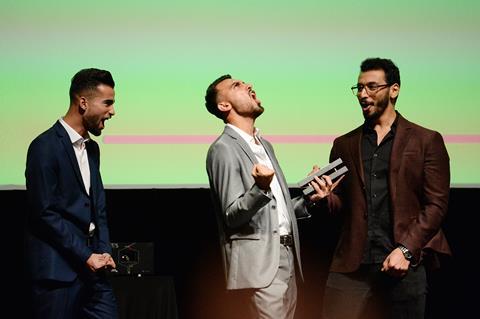 Egyptian director Ali El Arabi's coming-of-age documentary Captains Of Zaatari has won the top prize at the ninth edition of Doha Film Institute's Ayjal Film Festival which took place in Qatar from November 7-13.
Captains Of Zaatari won the best feature film award in the Hilal category, chosen by a jury aged 13 to 17 years. It follows two young Syrian refugees living in a camp in Jordan as they pursue their dreams to become professional soccer players.
In a surprise announcement, it was revealed the film's young subjects, Mahmoud Dagher and Fawzi Qatleesh, have been selected to be youth ambassadors for Fifa's 'Generation Amazing' programme ahead of the men's football World Cup to be held in Qatar in 2022.
The film was one of 85 features and short films showcased in the youth and family-focused film festival, unfolding as an in-person event under the banner of 'Press Play!, this year.
Tying in with the upcoming World Cup, the programme aims to use sport to positively impact lives and create sustainable social development in underprivileged communities.
Dagher and Qatleesh, who are still residents of the Zataari refugee camp in Jordan where the documentary was shot, were on stage with director El Arabi when the surprise announcement was made and were ecstatic about the news.
In further Ajyal prizes, Japanese director Yusuke Hirota's feature animation Poupelle Of Chimneytown won best feature award in the Mohaq category (the jury is comprised of youngsters aged eight to 12 years), and Palestinian director Abdallah El Khattib's documentary Little Palestine, Diary of a Siege, documenting life in the Palestinian refugee camp of Yarmouk outside Damascus from 2011 to 2015, was feted with best film in the Bader category. This was chosen by a jury of 18 to 25 year-olds.
Iranian director Sahar Mossayebi's female emancipation drama Orca, about a woman who takes up long-distance swimming to heal the scars of abuse by her ex-husband, won the audience award.
Local film focus
Ajyal also showcased 10 short works by locally-based talents in its Made In Qatar sidebar, for which the jury comprised actress Sheila Vand, Katara Studios CEO Ahmed Al Baker, and Oscar-nominated and BAFTA award-winning director Farah Nabulsi.
In addition to its win in the main shorts competition, Al-Marri's drama Olayan, about a Bedouin boy who forms a bond with a baby camel, scooped two prizes in the section. It won the best narrative award while the Abdulaziz Jassim award for performance went to its young star Saleh Salem.
Fellow Qatari director Majid Al Remaihi's And Then They Burn The Sea, which world premiered at Locarno this summer, won best documentary, while Sudanese-Russian Qatar-based filmmaker Suzannah Mirghani's Virtual Voice, a digital satire exploring the contradictions of social media activism, picked up a special mention.
Guests at the awards ceremony on November 13 included Oscar-winning sound editor Mark Mangini, Olympic athlete and filmmaker Alexi Pappas, journalist and activist Muna El-Kurd, and acclaimed photographer Brigitte Lacombe.