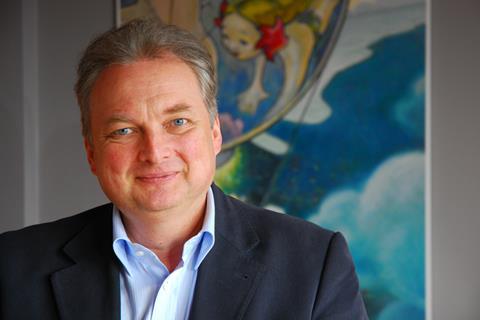 Marc Vandeweyer, co-founder and general director of European animation event brand Cartoon, is to step down from his role in July this year after 32 years in charge.
Vandeweyer confirmed his departure and retirement at the 2020 edition of Cartoon Movie, the company's feature film pitching event, held in Bordeaux from March 3-5.
Annick Maes, the current director of Cartoon Movie and TV pitching event Cartoon Forum, will step up from her current role upon Vandeweyer's departure.
Vandeweyer founded Cartoon as general secretary with the support of the Creative Europe MEDIA programme in 1987, alongside then director Corinne Jenart. Its first Constituent General Assembly was held in Brussels in February 1988.
Speaking to Screen, Vandeweyer said his leaving is "not important" in the context of the company.
"I have been working for two years with Annick to bring her to my position," he said. "I've tried to do it very smoothly. I will be there if she needs me for particular aspects or ideas."
Vandeweyer said he did not expect any drastic changes to the Cartoon brand under Maes' stewardship, and that he will still attend Cartoon events "as a tourist."
Cartoon Movie was created in 1999 as an event to 'create a synergy' between the various parties involved in making feature-length animation films and bringing them to audiences.
Reflecting on the event's origins, Vandeweyer said: "At that time, nobody did 'pitches' – the word 'pitch' did not exist. For 20 years, nobody did the same as we did."
As well as the Movie and Forum events, Cartoon also runs Cartoon 360 for animated transmedia projects and Cartoon Springboard for young talents; as well as international seminars Cartoon Business and Cartoon Digital.
The 2020 Cartoon Movie has gone ahead despite a spate of event cancellations and delays worldwide caused by the coronavirus pandemic. There has been a 10% withdrawal rate of delegates who had intended to attend; however, this is only slightly higher than the regular withdrawal rate of 6% in previous years.