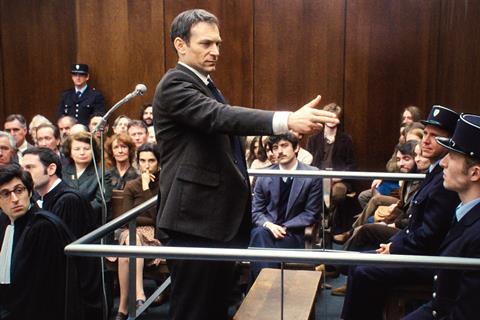 Cédric Kahn's The Goldman Case has closed a slew of deals in key territories following its world premiere as the opening film of Directors' Fortnight at Cannes.
Paris-based Charades has sold the courtroom drama to Menemsha Films for the US and English-speaking Canada and to FunFilm for French-speaking Canada, to DDDream in China and Lev Cinema in Israel.
The film has also sold in Europe to Spain (Filmin), Greece (Weird Wave), Italy (Movies Inspired), Portugal (Leopardo Filmes), Czech Republic and Slovakia (Artcam) and the Adriatics (MCF Megacom). Ad Vitam will release the film in France on September 27.
Produced by Benjamin Elalouf's Paris-based production house Moonshaker, The Goldman Case was written by Kahn alongside Nathalie Hertzberg. It stars Arieh Worthalter as Pierre Goldman, a French left-wing intellectual who faced life in prison for numerous charges, but proclaimed his innocence after being accused of a double murder. The original 1976 trial became a microcosm of the political, ideological and racial tensions that marked 1970s France and Europe.
The true life drama also stars Arthur Harari, Patrick Pineau and Nicolas Briançon. Canal+ is also on board and will air the film six months after its release in French theatres.
Producer Elalouf told Screen the film "has been resonating abroad because it deals with universal issues like racism, 1970s activism and a divided society, all in one case." He added: "Its story may be quite radical, but the mise-en-scene, the acting and the dialogue make it captivating from a filmmaking perspective."
Charades' co-founders Carole Baraton and Yohann Comte added: "The position of the film as Directors' Fortnight opener combined with its critical success and strong word-of-mouth has enabled us to keep it alive throughout the festival despite fierce competition, providing us with substantial leverage for sales. Especially this year, everybody loves a great courtroom thriller!"
The prolific Kahn's next film Making Of… is understood to be a top contender for Venice in the autumn.