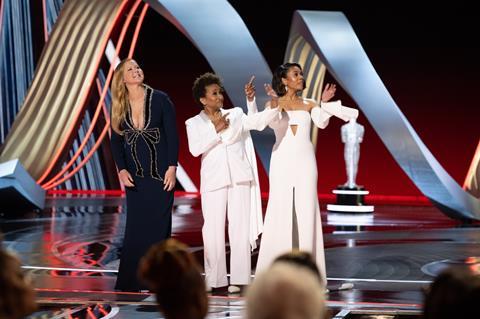 Oscars co-hosts Wanda Sykes and Amy Schumer have said they are still "traumatised" from the moment in Sunday's ceremony when Will Smith slapped presenter Chris Rock for making a joke about his wife Jada Pinkett Smith.
Speaking in an upcoming interview on The Ellen DeGeneris Show Sykes said she was in the middle of a costume change when Smith walked on stage and struck Rock. She only realised something was wrong when she watched from a backstage monitor as the eventual best lead Oscar winner left the stage.
"And I just felt so awful for my friend Chris," Sykes said. "It was sickening. I physically felt ill. I'm still a little traumatised by it. And for them to let him stay in that room and enjoy the rest of the show and accept his award, I was like, 'How gross is this? This is just the wrong message.' You assault somebody, you get escorted out of the building and that's it. For them to let him continue, I thought it was gross."
Sykes continued, "I'm like, 'What happened? What happened?' Everyone was like, 'Oh, my God,'" Sykes recalls of the collective audience shock. "And then Will just starts cursing from his seat, 'Keep my wife's name out [of your fucking mouth]' whatever, and I just was like, 'Is this really happening?' And then someone showed me on the video; yeah, he smacked Chris." The show will air on Thursday.
In an Instagram post on Wednesday Schumer wrote, "Still triggered and traumatized. I love my friend @chrisrock and believe he handled it like a pro. Stayed up there and gave an Oscar to his friend @questlove and the whole thing was so disturbing…So much pain in @willsmith, anyway I'm still in shock and stunned and sad. I'm proud of myself and my cohosts. But yeah. Waiting for this sickening feeling to go away from what we all witnessed."
The Academy has instigated a full review of the matter. Last night president David Rubin and CEO Dawn Hudson issued another statement in which they said the process would last "a few weeks".
The statement read: "Sunday's telecast of the 94th Oscars was meant to be a celebration of the many individuals in our community who did incredible work this past year. We are upset and outraged that those moments were overshadowed by the unacceptable and harmful behavior on stage by a nominee. To be clear, we condemn Mr. Smith's actions that transpired Sunday night.
"As outlined in our bylaws, the Academy's Board of Governors will now make a determination on appropriate action for Mr. Smith. As governed by California law regarding members of nonprofit organizations like the Academy, and set forth in our Standards of Conduct, this must follow an official process that will take a few weeks.
"We will continue to update you on any developments, but we also ask that you respect your Board, Academy staff and the process as this unfolds so it can work in the considered way it was intended and mandated. Please trust that the Board of Governors will conduct this process in a manner that is both expedient and respectful of all involved while maintaining the standards of the Academy."