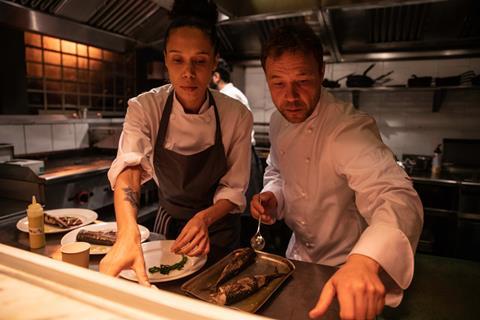 Paris-based sales company Charades has acquired world sales rights to UK director Philip Barantini's upcoming feature Boiling Point, starring Stephen Graham as a stressed-out head chef struggling to keep his high-end restaurant afloat.
The film is a feature-length version of Barantini's 2019 Bifa-nominated short of the same name and stars Graham, whose recent credits include The Irishman and The Virtues, once again.
Like the short, it is set amid the chaos of "magic Friday", the last Friday before Christmas, which is traditionally one of the busiest nights of the year for restaurants. Stress levels shoot sky high when a mentor, to whom Graham owes £200,000, turns up unannounced for dinner with a renowned restaurant critic.
"Like the short film, the long feature is shot with a single take. It's smart and subtle, and brings the intensity and the strength of the mise en scène to another level," said Charades co-chief Carole Baraton and sales executive Jean-Félix Dealberto.
"It also tackles contemporary issues such as mental health, addictions, violence and instability in the workplace, against the backdrop of the frantic and fascinating world of haute cuisine," they added. "We're confident it will appeal to audiences in cinemas when they reopen or earlier through VoD and streaming services."
Charades boarded the feature-length project at the script stage after discovering Barantini's work through the short film.
"The short film works as an incredible proof of concept, à la Thunder Road," said Baraton and Dealberto, referring to Jim Cummings's award-winning 2019 comedy drama, which also began as an award-winning short.
Charades has released the first image for Boiling Point [above] which wrapped in London in mid-March, just before the Covid-19 lockdown, and is currently in post-production. Other cast members include Jason Flemying and Vinette Robinson.
"Boiling Point was one of the best experiences I've had on a set," said Graham.
The production is lead produced by Bart Ruspoli and Hester Ruoff at Ascendant Films, with Burton Fox Films, Graham's new production banner Matriarch Productions and Barantini's company Three Little Birds Pictures.
Charades, which was founded by sales veterans Baraton, Yohann Comte and Pierre Mazars in 2017, has forged strong links with the UK's independent production scene since its creation and recently handled sales on Bassam Tariq's Mogul Mowgli, starring Riz Ahmed, and Fyzal Boulifa's Lynn + Lucy.
Boiling Point is Barantini's second feature film after gangster thriller Villain which was released by Vertigo in the UK in early March.