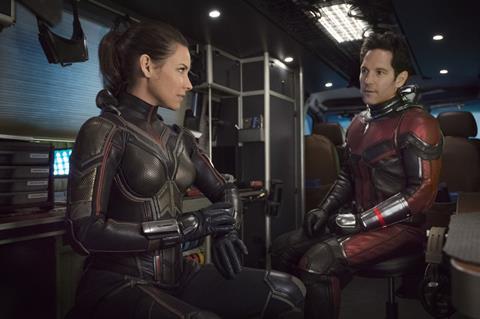 Ant-Man And The Wasp easily conquered the week of Aug 20-26, marking the return of Hollywood and ending the two-month reign of the Chinese summer blockbusters at the Chinese box office.
Taking in $65.9m from its three-day debut, Disney's Ant-Man And The Wasp opened as the fourth highest debut for a Marvel Cinematic Universal release in China as well as the third highest for a non-Chinese film so far this year, after Avengers 3 and Jurassic World 2. It also opened slightly above Black Panther, another Marvel film from this year, and almost 70% more than 2015's Ant-Man.
Warner Bros' China co-production The Meg maintained well in second place with $25.2m, narrowly surpassing two-week champion The Island. Both films opened on the same day (Aug 10), but The Island stayed at No.1 for 10 days until The Meg overtook it on Monday (Aug 20).
The giant shark action thriller continued to stay top till Thursday when the new releases opened on Friday. China has become its biggest market worldwide with a 17-day total of $140.2m.
Local comedian-turned-director Huang Bo's The Island dropped to the third with $23.6m for $183m after 17 days. It is currently the 10th highest grossing film this year.
Thanks to good word of mouth, local fantasy comedy Go Brother remained strong in fourth place with $19.8m for $37.7m after 10 days. Based on a popular Chinese manga of the same name, it is directed by Hear Me director Cheng Fen Fen.
Donnie Yen-starrer Big Brother opened in fifth with $12.7m from its first three days. Yen is best known for his role as martial arts master Ip Man and more recently as a blind fighter in Rogue One: A Star Wars Story. But the Hong Kong inspirational drama is a departure from his previous action films and sees him play a high school teacher who is forced to use his fighting skills to save his students.
The rest of the chart are mostly holdovers: Sony animation Hotel Transylvania 3: Summer Vacation on $8.9m for $25.5m after 10 days; former champion Hello Mr Billionaire on $6.8m for $357.7m after 31 days; veteran Taiwanese director Kevin Chu's action comedy Oolong Courtyard on $3.7m for $18.2m after 10 days; local drama Proud Of Me on $2.7m from its first three days; and local historical war film Blood-Soaked Guangchang on $2.4m for $8.9m after 26 days.
As the summer season draws to an end, Mission: Impossible – Fallout and Sultan will open on Aug 31.