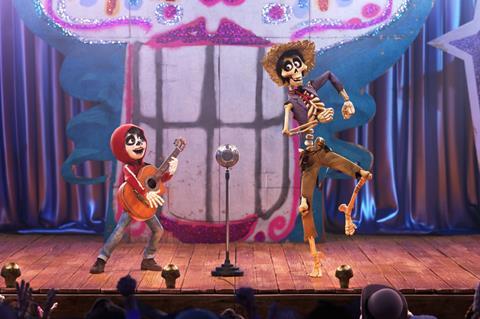 Animations took control of the Chinese box office in the week of Nov 27-Dec 3. Disney-Pixar's Coco bounced up to first place after opening in second place in the week before, while Japanese animation Fireworks debuted in second over the weekend.
Coco gained strong traction in its second week with $54.6m, overtaking Justice League to clinch the No.1 position. It's a big leap from its $16.8m opening weekend which placed it in second position. It's also the biggest weekly gross since mid-October.
Standing at $71.5m after 10 days, Coco has doubled the final gross of Finding Dory to become the top grossing Pixar film. This is a remarkable feat given Pixar's poor track record in China.
Warner Bros' Justice League was pushed to second after staying top for two weeks. Adding $14.1m for $93.5m after 17 days, it has surpassed Wonder Woman and Batman v Superman: Dawn Of Justice to become DC Entertainment's biggest film in China. It may be possible to beat Marvel Studios' Guardians Of The Galaxy Vol. 2.
Fireworks, Should We See If From The Side Or The Bottom? took second place over the weekend, but ranked third overall with $10.1m from its first three days. This is only a quarter of the opening weekend of Japanese hit Your Name, which was released exactly one year ago. Fireworks is an animated fantasy romance based on Shunji Iwai's celebrated TV film from 1993.
The rest of the new films all opened softly. Local comedy Kill Me Please, produced by Eric Tsang who also stars in it alongside mainland actors Wang Xun and Yu Shasha, earned $4.2m from its first three days.
It was followed by John Woo's action thriller Manhunt on $4.1m for $14.7m and local thriller Explosion, starring Duan Yihong, on $2.3m for $6.9m, both after 10 days.
Another three new films were local comedy Our Happiness on $2m; Joe Wright's Darkest Hour, also on $2m; and Russian historical action epic Viking on $1.7m, all from their first three days.
Vivian Qu's Venice competition title Angels Wear White held well on limited screenings, adding $1.2m for $3m after 10 days.
This week's new releases include Paddington 2, The Dreaming Man, The Big Call and 47 Meters Down, all scheduled for Dec 8.