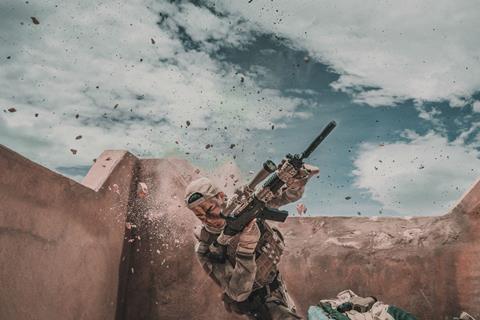 Thanks to the New Year blockbusters, February at the Chinese box office was the biggest month ever for a single territory with $1.67bn.
Much of that came from three top festive titles, which continued to command the Chinese box office during Feb 26-Mar 4. Operation Red Sea succeeded in moving to the top, knocking Detective Chinatown 2 to second place, while Monster Hunt 2 remained in third.
Hong Kong director Dante Lam's latest military film, which opened in fourth and climbed to second in its second week, finally reached the top in its third week, taking $144.2m for $498m after 17 days. With its gory and bloody battle scenes (which earn it a Category III rating in Hong Kong), it is not a typical Chinese New Year film, but it has become the fourth highest grossing film of all time in China, one place below Detective Chinatown 2.
Detective Chinatown 2 was pushed to second with $80.2m, but the action comedy is still the overall winner so far with $522.1m after 17 days. Incidentally, both their predecessors, Operation Mekong and the first Detective Chinatown, are set in Thailand and this time the new films have moved to Africa and New York's Chinatown respectively.
Monster Hunt 2 remained in third with $26.9m, bringing its 17-day total to $364.5m, but it is still lagging behind its 2015 predecessor which is currently the sixth highest grossing film of all time.
Amazing China opened in fourth as the highest new entry with $15.3m from its first three days. The local documentary is a showcase of China's achievements in the past few years, including major technological and engineering projects.
It was followed by Sony's CG/live action feature Peter Rabbit based on popular Beatrix Potter children's books on $13.3m and Salman Khan's Indian blockbuster Bajrangi Bhaijaan on $9m, both from their first three days.
The rest of the charts was made up of local animation Boonie Bears: The Big Shrink on $8.9m for $98.1m after 17 days; new release Girls 2, directed by Barbara Wong and starring Ivy Chen, Fiona Sit and Chang Chun Ning, on $8.2m from its first three days; fantasy romance The Monkey King 3: Kingdom Of Women on $6.1m for $119.6m after 17 days; and comedy The Faces Of My Gene on $5m for $26.3m after 17 days.
After a few weeks of absence, Hollywood will return with Black Panther, which will hit cinemas on Mar 9.