Star Wars spin-off has now passed $50m, while Jennifer Lawrence and Chris Pratt sci-fi Passengers ruled the weekend.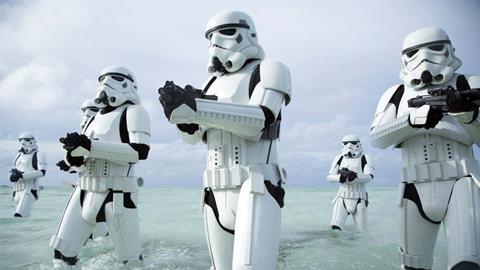 Last week's box office in China, which dipped by approximately 19%, entered a lull ahead of Chinese New Year on Jan 28.
Disney's spin-off Rogue One: A Star Wars Story retained the box office crown in the week of Jan 9-15, generating $21.89m for $52.51m after 10 days.
Although it ruled the Fri-Sun weekend, Sony's sci-fi romance Passengers opened in second place overall with $17.26m from its three-day opening debut. Lead actress Jennifer Lawrence is a familiar face among the Chinese audience, thanks to the X-Men and The Hunger Games franchises.
Local romantic comedy Some Like It Hot dropped one place to third with $16.81m for a 17-day total of $69.59m. This is considered a box office success for a low-budget production with no big-name cast. The two first-time directors are veteran DoP Song Xiaofei and soundman Dong Xu, both of whom worked on smash hit Lost In Thailand.
Jackie Chan's Railroad Tigers remained in the top five in its fourth week and ranked fourth with $6.28m for $93.01m after 24 days. It was ahead of new-opening local family animation Backkhom Bear: Agent 008 on $5.81m from its first three days, and Zhang Yimou's The Great Wall on $4.01m for $162.96m after 31 days.
Universal's fantasy animation Kubo And The Two Strings opened in seventh with $2.99m from its first three days; followed by Mel Gibson's Hacksaw Ridge, already the biggest imported war film in China, on $1.88m from an extended run for a 39-day total of $58.38m.
Another local animation, Boonie Bears: Entangled Worlds, which won't open until Jan 28, claimed the ninth spot with $1.71m based on previews only, while UK thriller Eye In the Sky rounded up the chart with $1.20m from its first three days.
Arrival (Jan 20) is the only high-profile new release scheduled for this week. Waiting in the wings are the Chinese New Year blockbuster titles, which will arrive on Jan 28, the first day of a week-long holiday period.