Holdovers The Island and The Meg fought off new competitors to remain top at the Chinese box office in the week of Aug 13-19, as Europe Raiders, Go Brother and Hotel Transylvania 3: Summer Vacation didn't break out in a big way.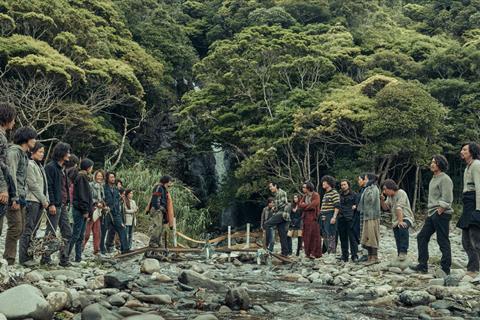 Local comedian-turned-director Huang Bo's The Island kept the lead in its second week with $82.9m for $159.3m after 10 days. It has become the third highest grossing summer release and the 10th highest grossing film overall, both for this year. The offbeat comedy about an odd group of coworkers who find themselves shipwrecked on an island stars Huang, Shu Qi and Wang Baoqiang.
Giant shark action thriller The Meg moved up one place to second with $65.2m for $114.9m after 10 days. Starring Jason Statham and Chinese actress Li Bingbing, this US-China co-production between Warner Bros and Gravity Pictures has found success beyond the two markets as it has crossed $300m worldwide.
In third spot was action thriller Europe Raiders which raked in $19.3m from its first three days. It debuted promisingly in second place on Friday, but dropped off to the fifth and the seventh place on the weekend due to negative word of mouth. Hong Kong director Jingle Ma returns along with actor Tony Leung Chiu-Wai for this third installment of the Raiders franchise, following 2000's Tokyo Raiders and 2005's Seoul Raiders. Kris Wu, Tiffany Tang and Du Juan join the cast of the new film produced by Jet Tone Films.
Local fantasy comedy Go Brother followed closely in fourth place with $17.9m from its first three days. After opening only in sixth place on Friday, it gained strong traction and climbed to third place on Sunday. It is based on a popular Chinese manga of the same name and directed by Hear Me director Cheng Fen Fen.
Sony animation Hotel Transylvania 3: Summer Vacation trailed closely behind with $16.5m from its first three days, almost surpassing the combined lifetime total of the franchise's first two films.
Former champion Hello Mr Billionaire still held well with $16.4m for $350.9m after 24 days. It continued its ascent to become the seventh highest grossing film of all time, surpassing Monster Hunt, Furious 7 and Avengers 3.
Veteran Taiwanese director Kevin Chu's action comedy Oolong Courtyard came in seventh with $14.5m from its first three days; ahead of iPartment on $8.6m for $78.8m after 10 days; local historical war film Blood-Soaked Guangchang on $2.3m for $6.6m after 19 days; and Chinese animation Yugo & Lala 4 on $1.8m for $13.8m after 17 days.
Following two months of Chinese domination, Hollywood blockbusters are set to come back, with Ant-Man And The Wasp scheduled for Aug 24 and Mission: Impossible – Fallout for Aug 31.