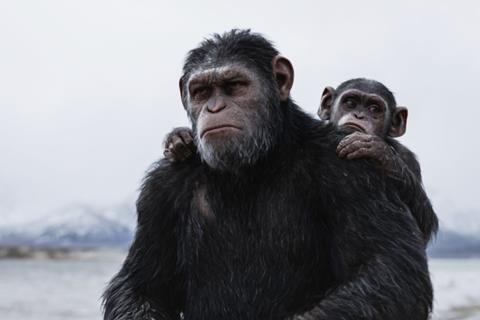 War For The Planet Of The Apes was declared the biggest winner at the Chinese box office in the week of Sep 11-17.
Taking $61.85m from its first three days, this represented Fox's biggest opening weekend ever in China, which was also slightly bigger than its North American debut two months ago.
The third installment of the Planet Of The Apes reboot opened much bigger than its second installment, 2014's Dawn Of The Planet Of The Apes, which went on to earn $108.92m in China (based on current exchange rate). It has already outgrossed the entire run of the first installment, 2011's Rise Of The Planet Of The Apes.
After sitting atop for merely one week, Sony's Spider-Man: Homecoming was pushed to the second spot with $34.62m for $105.69m after 10 days. It has surged past The Amazing Spider-Man 2 to become the biggest Spider-Man film in China.
It has also overtaken Wonder Woman and Guardians Of The Galaxy Vol 2 to become the second highest grossing superhero film this year and will soon be ahead of Logan to become the top superhero film this year.
Japanese animated fantasy adventure Sword Art Online: Ordinal Scale opened in third place with $6.29m from its three-day opening weekend. As the third Japanese film opened in China over the last three weeks, its debut fared better than Japanese animation A Silent Voice but fell short of Japanese live-action film Gintama.
Spanish suspense thriller Contratiempo followed in fourth with $5.08m from its first three days. It overtook Sword Art Online: Ordinal Scale and climbed to third place on Sunday.
Christopher Nolan's Dunkirk and Wu Jing's Wolf Warriors 2 almost tied, with the former adding $3.82m for $51.23m after 17 days and the latter taking $3.51m for $869.23m after 53 days.
Local costume village comedy Don't Run The Thief, which was first released in March last year, re-entered the chart with $1.91m; followed by Japanese animation A Silent Voice on $1.55m for $6.64m after 10 days; Growing Pains, a local coming-of-age drama starring Xu Jiao, on $0.94m from its first three days; and local animation The Floating Planet on $0.57m based on previews only.
New releases include In The Fog, Pure Hearts: Into Chinese Showbiz, The Hitman's Bodyguard, Thomas & Friends: The Great Race (all on Sep 22) and Mr Black: Green Star (Sep 23). As no heavyweight opening is scheduled, War For The Planet Of The Apes is likely to stay top for another week.