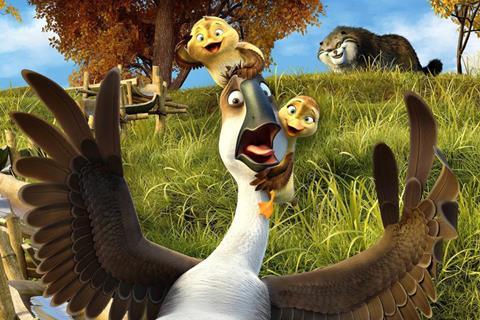 China's Original Force, Lian Ray Pictures, and Bravo Entertainment have joined forces to launch Cheng Zhe Co. Ltd, the first Chinese theatrical distributor dedicated to animated films.
The joint venture will acquire both Chinese and international animated family movies. Most of its releases will launch on 5,000-10,000 screens.
Cheng Zhe plans to acquire four or five films in 2018.
The new company also plans to maximize the licensing and merchandising opportunities of the properties it acquires.
Cheng Zhe will acquire all distribution rights for China, exploiting VOD, new media, and TV rights after theatrical distribution.
Harley Zhao, CEO/founder of Original Force; Yuan Cai, CEO/founder of Lian Ray; and Wenbo Zhang, CEO/founder of Bravo, will head the company. The team will also include Adam Zhang, SVP Corporate Strategy & International Business, Original Force; Xinran Li, COO of Lian Ray Pictures; and Hao Chen, COO of Bravo.
Animation studio Original Force released its first CGI movie, Lord, last year and its first original family animation feature, Duck Duck Goose, will receive a wide release in China via Wanda in spring 2018.
GFM Animation partners with Original Force on Duck Duck Goose and is screening the film at AFM. GFM will also work with Original Force to source independently produced animations as well as studio films that fell outside the quota system.
Lian Ray has distributed huge Chinese hits such as Monster Hunter and Mermaid, and will handle physical distribution for Cheng Zhe.
Bravo, which has worked in marketing for hits such as Monster Hunter, Kung Fu Panda III and Cars III, will oversee international marketing activities of future Cheng Zhe productions.
Nanjing-based Harley Zhao said, "We truly believe the market, as well as the animation industry in China, is in urgent need of a dedicated and well-rounded distribution company. Cheng Zhe, with the support and endorsement of the three strong partners, will become an emerging force to help domestic and international animation and CGI family films achieve strong results in this competitive landscape."