The veteran actor died on Sunday after being hospitalised for respiratory problems and heart failure.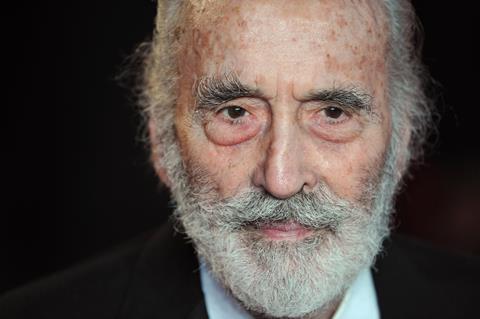 Sir Christopher Lee has died, according to sources close to his family. He was 93.
The veteran actor died on Sunday (June 7) at Chelsea and Westminster Hospital in London following respiratory problems and heart failure.
Lee had more than 280 film and television credits to his name but was best known for his role as Count Dracula in a string of popular Hammer Horror films, James Bond villain Scaramanga in The Man With The Golden Gun (1974) and more recently Saruman in The Lord of the Rings and The Hobbit film trilogies. He also featured in the final two films of the Star Wars prequel trilogy.
The decision to release the news days after was based on his wife's desire to inform family members first. The couple had been married for more than 50 years.
Lee still has one film yet to be released, fantasy film Angels in Notting Hill, directed by Michael Pakleppa.
Following news of the veteran actor's death, Amanda Nevill, CEO of the BFI (British Film Institute), said: "Sir Christopher Lee, a BFI Fellow, was a distinctive and enduring presence in British and international cinema for almost 70 years.
"He leaves behind an unforgettable legacy of film and television performance. His contribution to cinema history spans such films as the definitive Dracula for Hammer Films through Billy Wilder's The Private Life of Sherlock Holmes, and the seminal The Wicker Man.
"His personal favourite was the title role in Jinnah. He had a unique ability to appeal to each successive generation, gaining a new wave of fans as Saruman in The Lord of the Rings trilogy and in Tim Burton's films. British Cinema pays tribute to this global legend."