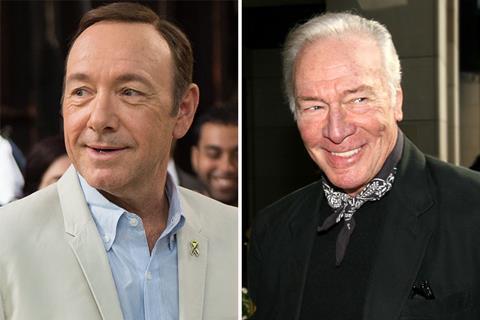 Signalling the faith they have in their film, Imperative Entertainment and Ridley Scott are taking the extraordinary step of excising embattled Kevin Spacey from All The Money In The World and replacing him with Christopher Plummer.
It is understood Sony Pictures supports the move and Scott will begin reshoots immediately as Plummer steps into the role of billionaire John Paul Getty. The partners plan to stick to the December 22 US release date.
Spacey's exit follows mounting allegations of sexual assault and sexual harassment. Despite this, Scott and the film's financier Imperative Entertainment are refusing to stand by and watch their kidnap drama get swallowed up by the crisis that surrounds Spacey.
It is understood Spacey did no more than 10 days' work on the film and wears heavy make-up in character as the oil magnate, who refuses to buckle when his grandson is abducted by the Italian Mob. Michelle Williams plays the boy's mother and Mark Wahlberg is Getty's advisor.
At the start of the week Sony and Imperative pulled the film from its AFI FEST closing night berth but they clearly do not want it to suffer any more and believe in the film's awards and commercial prospects. Sources said there will be an awards push in all major categories.
Imperative financed the drama and that company's Dan Friedkin and Bradley Thomas serve as producers along with Scott Free's Scott and Kevin J. Walsh, Quentin Curtis and Chris Clark.
Recently Taylor Sheridan and the filmmakers on Wind River took control of that film from The Weinstein Company in light of the avalanche of allegations against Harvey Weinstein.