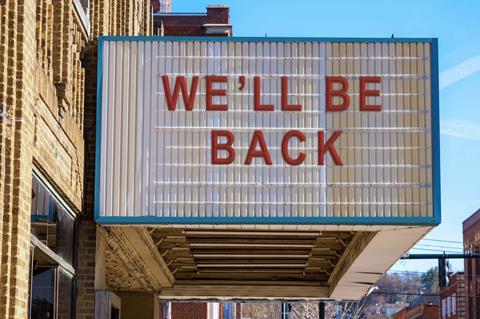 Countries across the world are outlining plans to reopen cinemas as they attempt to emerge from the coronavirus pandemic.
This page will provide updates for each territory as they come through, with details on dates, distancing, and distribution where relevant.
Information on European territories has been collated in conjunction with the Union Internationale des Cinémas (UNIC). Dates and timelines have come from national authorities and should be regarded as provisional and subject to change.
Albania
Reopening date: June 23
American Samoa
Reopening date: Late July
American Samoa's one cinema, the Regal Nu'uuli Place Twin, closed on March 17. As of July 29, it is still closed.
Austria
Reopening date: May 29
Cinemas were permitted to reopen from May 29, a month ahead of the originally planned July 1. Most cinemas had reopened by mid-June, with some chains waiting until early July. Attendance will be increased from 250 per room to 500 from August 1.
Belgium
Reopening date: July 1
Cinemas were cleared to reopen from July 1, as part of a phased nationwide easing of lockdown measures. Face coverings have been mandatory in theatres since July 11.
Bosnia & Herzegovina
Reopening date: May 14
Federal authorities in the predominantly Serbian Republika Srpska announced on May 14 that cinemas and cultural institutions could reopen immediately. Some cinemas began reopening the week commencing May 18, with most others following in June.
Bulgaria
Reopening date: May 11
Health minister Kiril Ananiev issued an order on May 11 allowing cinemas to reopen immediately. Despite a spike in cases in mid-July, sites remain open.
China
Reopening date: July 20
After the closure of all cinemas on January 24, 500 cinemas reopened on the weekend March 20-22. However, they were ordered to close again on March 28. Cinemas started reopening again on July 20, although Beijing theatres were only allowed to open on July 24. Cinemas in the northeast city of Dalian were closed again on July 23 after a cluster of cases were reported. Less than half the country's cinemas opened in the first week, all of which are operating at 30% capacity to allow for appropriate social distancing between customers, for whom face masks are mandatory.
Croatia
Reopening date: May 18
Cinemas were allowed to reopen from May 18, but those located in shopping malls had to wait until June 15. Following second spike, measures on gatherings of more than 100 people were introduced on July 10 and face masks were made mandatory from July 15 for all staff that work with customers.
Cyprus
Reopening date: September.
Open-air cinemas reopened as part of the country's third phase of removing lockdown measures, which began on June 9. Indoor cinemas were expected to open from July 14 as part of phase four, but that has been postponed to early August. Local cinema operators have decided to reopen in September.
Czech Republic
Reopening date: May 11
The final part of the Czech Republic's five-step reopening process saw all businesses, including cinemas, reopen from May 11. Social distancing of 2 metres remains in place but mask wearing is no longer mandatory and an occupancy limit of 100 people has been removed.
Denmark
Reopening date: May 21
All 169 Danish cinemas had been shut since partial lockdown was announced by the government on March 12. Cinemas, along with other cultural institutions, were allowed to reopen from May 21, more than two weeks earlier than initially proposed.
Estonia
Reopening date: June 1
Large public events were given the greenlight to go-ahead from June 1. Cinema opted to begin reopening from mid-June, limited to 500 people and 50% room occupancy.
Finland
Reopening date: June 1
Cinemas were cleared to reopen from June 1, with indoor gatherings limited to 500 people. The Finnish Film Foundation has received an extra €1m of government funding to secure the future of cinemas across the country. Major chains chose to start reopening from the last week of June.
France
Reopening date: June 22
The French government announced in late April that cinemas, along with other arts venues, would remain closed until least June 2. On May 28 it was announced that cinemas would be able to reopen from June 22. France's 6,000 cinemas had been closed since March 14. Large cultural events involving 5,000 or more people are banned until September at the earliest, with Cannes Film Festival among the events to have suffered due to the ban.
Germany
Reopening date: May 15 to June 30
German reopening took place on a state level, with 14 of 16 states announcing dates as of June 1. The North Rhine-Westphalia region became the first to announce its plans on May 11, saying arts venues including cinemas could reopen from May 30, with patrons required to distance 1.5m from each other. Further regions announced as follows: Hessen (346 screens in 2019) from May 15; Saxony (247), Schleswig-Holstein (175) and Saarland (67) from May 18; Mecklenburg-Vorpommern (141) from May 25; Hamburg (87) and Rhineland-Palatinate (224) from May 27; Sachsen-Anhalt (130) from May 28; Baden-Württemberg (691) from June 1; Thuringia (138), Brandenburg (152) from June 6; Bremen (49) from June 12; Thuringia (138) from June 13; Bavaria (859) from June 15; Lower Saxony (462) from June 22; and Berlin (284) from June 30. North Rhine-Westphalia re-imposed a lockdown in the local districts of Gütersloh and Warendorf from June 23-30.
Greece
Reopening date: June 1 (outdoor cinemas); not before October 4 (indoor)
Lockdown ended in Greece on May 4, with all cinemas able to open from June 29. However on Monday 21 indoor cinemas were closed again due to a new wave of the virus, with Greek authorities set to review the situation on October 4. Distributors and exhibitors have told Screen that they expect indoor cinemas to remain closed until at least the end of October if cases continue to rise at the current rate.
Hong Kong
Reopening date: Unknown
The government relaxed Covid-19 restrictions in early May, with cinemas opening from the second weekend of the month. However, a rise in cases in mid-July saw chief executive Carrie Lam order cinemas to close again from July 15.
Hungary
Reopening date: June 18
Hungary's 'state of emergency' was lifted on June 18, allowing the immediate reopening of cinemas. However, most decided to reopen in early July, with operators sending a proposal for 75% occupancy to government.
Iceland
Reopening date: May 4
Cinemas were permitted to reopen with a 50 person per screen limit on May 4 but just a handful of the country's 29 screens chose to do so.
Ireland
Reopening date: June 29
The Irish government outlined its exit strategy on May 1, with cinemas initially part of the final phase starting on August 10. That was initially moved forward to July 20 before shifting further to June 29.
Italy
Reopening date: June 15
A May 16 announcement said cinemas could reopen from June 15, limited to 200 people per room. Audience members must wear a mask when they enter the cinema but can remove it when they sit inside the screening room. Italy was one of the first European nations to impose lockdown measures.
Kosovo
Reopening date: Unknown
A three-step reopening plan for the country saw a proposed reopening date of June 1 for cinemas. But a second spike in cases saw that postponed and a new date has yet to be announced.
Latvia
Reopening date: May 12
Although gatherings of 25 people and the reopening of all business (including cinemas) have been allowed since May 12, most cinemas decided not to reopen immediately. Occupancy limits were increased to 100 from June 9 and 250 from August 1.
Lithuania
Reopening date: May 31
Indoor events, including cinemas, of under 30 people were permitted as of May 31. The first cinema to actually reopen did so on June 5. Social distancing rules remain in place.
Luxembourg
Reopening date: June 17
The government announced that cinemas could reopen from May 29. Exhibitors chose to resume screenings from June 17.
Malta
Reopening date: June 5
While cinemas were given the go-ahead to resume business from June 5, most started reopening from the week commencing June 22. Masks are mandatory.
Montenegro
Reopening date: June 1
Cinemas were cleared to reopen from June 1 but local operators decided to resume screenings from early July.
Netherlands
Reopening date: June 1
A May 6 announcement said restaurants and cinemas could reopen on June 1.
Norway
Reopening date: May 7
Norway's 211 cinemas were authorized to reopen from May 7 with a 50-person capacity, which increased to 200 people on June 15. They had been shut since March 12.
Poland
Reopening date: June 6
The fourth phase of lockdown easing saw cinemas allowed to reopen from June 6, with capacity limited to 50% and mask wearing mandatory.
Portugal
Reopening date: June 1
Cinemas were allowed to reopen on June 1, with limited capacity. The state of emergency in Lisbon's 19 districts was extended until July 29, including restrictions on operating hours for businesses.
Romania
Reopening date: September 1
On July 14, the country's state of emergency was extended for a further 30 days, thereby prohibiting the reopening of cinemas. This was finally lifted at the beginning of September.
Russia
Reopening date: July 15
Russia's deputy prime minister announced on June 2 that Russia's cinemas could reopen from July 15. Sakhalin and Leningrad regions allowed cinemas to reopen in late June. In Moscow, cinemas with a capacity of less than 3,000 people will be able to re-open at 50% capacity from August 1. Karo Cinemas, Russia's leading cinema chain, began opening its Moscow venues from that date; its cinemas in St Petersburg and the regions will reopen on dates between August 16 and September 1.
Serbia
Reopening date: July 1
While cleared to reopen from July 1, most cinemas have remained closed. Major chains are expected to resume business in August. Face masks have been mandatory at indoor establishments since July 17.
Singapore
Reopening date: July 13
Cinemas in Singapore were allowed to reopen from July 13 with safety measures in place. These include social distancing of 1m and a maximum capacity of 50 per room. Masks are mandatory.
Slovakia
Reopening date: May 20
Slovakia has been reopening its public areas since April 22, with cinemas allowed to reopen from May 20. Most sites had reopened by June 15, when the capacity limit was increased from 100 to 500 people per room.
Slovenia
Reopening date: May 18
Slovenia became the first European nation to call an end to its epidemic on May 14, with all shops and businesses allowed to open from May 18. Most cinemas had reopened by June 1.
Spain
Reopening date: May 25-June 8
Cinemas were cleared to open from May 25 while cinemas in major cities such as Madrid and Barcelona reopening after June 8. However, a local lockdown started on July 4 in Segrià after an increase in cases and the Catalan Government declared the closure of all cinemas in Barcelona and its surrounding area from July 18 for a period of two weeks. Cinemas in Barcelona reopened after exhibitors challenged the decision in court.
South Korea
Reopening date: April 29
South Korean cinemas began to reopen over the four-day national holiday at the end of April.
Sweden
In line with the country-wide policy, cinemas in Sweden have not been instructed to close at any stage. The country's largest exhibitor Filmstaden did close its venues, comprising 65% of the market, on March 12 in line with the global policy of its owner AMC. However, some independent cinemas remained open with social distancing measures in place.
Switzerland
Reopening date: June 6
As the third phase of Switzerland's reopening plan, cinemas were given the green light to reopen as of June 6.
Turkey
Reopening date: July 3
Turkey's national lockdown was lifted on June 1 andcinemas were allowed to reopen from July 3, with some major exhibitors holding back until mid-July.
UK
Reopening date: July 4-27
The government announced its exit strategy for England on May 10, indicating that cinemas could reopen from July 4. The devolved nations that comprise the rest of the UK saw Northern Ireland reopen cinemas on July 10 while Scotland confirmed a July 15 date and Wales cleared the reopening of venues July 27. At the end of July, the UK government announced that face coverings in cinemas would become mandatory and enforceable in law from August 8.
Ukraine
Reopening date: July 2
Cinemas were allowed to reopen from June 10 in the third phase of the country's five stage easing of lockdown measures. However, operators asked local authorities to postpone reopening to July 2, as they believe they would not be able to effectively operate before then.
US
Reopening date: varies according to state
Cinemas were reopening in the US on a state-by-state basis, with Georgia opening sites from mid-May and Texas following suit. California, a key state, has generally not seen cinemas reopen and they are expected to do so in early August Cineworld-owned Regal Cinemas was set to open from July 10, before a delay until July 31. AMC pushed back its reopenings until mid to late August. Following a substantial rise in Covid-19 cases, on July 13 California governor Gavin Newsom ordered all indoor cinemas to close.