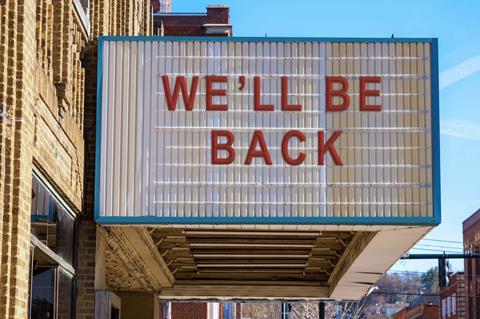 As cinemas deal with the third wave of closures in 2021, Screen charts the situation in markets across the globe.
This page will provide updates for each territory as they come through, with details on dates, distancing, and distribution where relevant.
Information on European territories has been collated in conjunction with the Union Internationale des Cinémas (UNIC). Dates and timelines have come from national authorities and should be regarded as provisional and subject to change.
Albania - OPEN
Albania has a curfew, with all citizens required to stay at home from 11pm until 6am
Algeria - CLOSED
American Samoa - CLOSED
Austria - CLOSED
Reopening date: May 19
Restrictions will include a 10pm curfew, 50% capacity limit, ban on F&B sales and mandatory mask wearing.
Bahrain - OPEN
Belgium - CLOSED
Reopening date: June 9
Bosnia & Herzegovina - OPEN IN AREAS
Local closures, including in capital city Sarajevo, came into force from March 13. Cinemas in Republika Srpska were required to close from March 21 until further notice. In the rest of Bosnia & Herzegovina, cinemas may open with a 9pm curfew.
Bulgaria - OPEN
Cinemas can open with a 30% occupancy limit, between 6am and 11am. F&B sales are forbidden.
China - OPEN
Croatia - OPEN
Cyprus - CLOSED
Czech Republic - CLOSED
Denmark - OPEN
Occupancy limit is 25 people per room from May 6, 50 from May 21 and 100 from June 11.
Egypt - OPEN
Estonia - CLOSED
Finland - OPEN
As of April 23, cinemas are allowed to operate but with a limit of six people per show in 10 out of 21 counties; 10 per show in four counties; and 20 per show in the remaining seven counties. Major chains are operating only in counties with a 20-person capacity limit.
France - CLOSED
Reopening date: May 19
On April 29, it was announced that cinemas could reopen from May 19 with a 35% occupancy limit, and an 800-person limit per room. There will be a 9pm curfew. From June 9, the occupancy limit will increase to 65% with an 11pm curfew, and to 100% from June 30 with no curfew.
Greece - OPEN
Indoor cinemas were allowed to restart operating nationwide from July 1 on 85% capacity exclusively for fully vaccinated patrons. Mask wearing during the screenings is mandatory. Many indoor venues, especially those with single and double screens, are expected to resume operating at the beginning of the winter season in early September.
Hong Kong - OPEN
Hungary - OPEN
With cinemas allowed to reopen from May 1, many independent venues indicated their intention to reopen on that date, while several chains said it would take longer for them to prepare.
Iceland - OPEN
Iraq - OPEN
Ireland - CLOSED
Israel - CLOSED
Italy - OPEN IN AREAS
Around 120 independent venues, mainly in big cities with low infection rates, reopened from April 26; most chains are waiting until mid-May when blockbuster titles will start to arrive.
Jordan - CLOSED
Kosovo - OPEN
Kuwait - CLOSED
Latvia - CLOSED
Lebanon - CLOSED
Libya - CLOSED
Lithuania - OPEN
There is a 30% maximum capacity limit in place, with a maximum of 150 people per room.
Luxembourg - OPEN
Malta - CLOSED
Montenegro - OPEN
Morocco - CLOSED
Netherlands - CLOSED
Reopening date: May 26
Cinemas will be allowed to reopen under certain conditions in the third step of the government's national reopening plan. Capacity levels will be increased with each step, with further steps coming on June 16 and July 7.
North Macedonia - OPEN
Cinemas can operate at 30% capacity
Norway - OPEN
Cinemas were still closed in Oslo and Bergen as of mid-February, with a 200-person limit for the rest of the country.
Oman - CLOSED
Palestine - OPEN
Poland - CLOSED
Reopening date: May 29
Cinemas will be allowed to reopen with a 50% capacity limit from May 29. Outdoor cinemas can reopen from May 15.
Portugal - OPEN
Restrictions in Portugal include mandatory face masks, no evening shows on weekdays and morning-only shows on weekends, no F&B and a 50% capacity limit.
Qatar - CLOSED
Romania - OPEN IN AREAS
An 8pm nationwide curfew restricts the opening hours of cinemas; which are also required to close in regions with an infection rate higher than three cases per one thousand people. Cinemas are open at 30% to 50% capacity in regions that meet the epidemiological criteria; however most cinemas across the country are closed.
Russia - OPEN
At the beginning of 2021 97% of Russian cinemas had reopened, in 83 of the country's 85 regions. There are still capacity restrictions ranging from 70% to 15% in more than half of the open cinemas.
Saudi Arabia - OPEN
Serbia - OPEN
Cinemas are not allowed to operate between 8pm-5am, and must limit patrons to one person per four square metres, and capacity to 500 people per room.
Singapore - OPEN
Slovakia - CLOSED
Slovenia - CLOSED
Spain - OPEN IN AREAS
While theoretically allowed to operate, a large number of Spanish cinemas have closed their doors from late 2020 due to the lack of content and evolving local restriction measures. As of April 2021, the share of open cinemas is around 80%.

South Korea - OPEN
Sudan - CLOSED
Sweden - OPEN
A limit of eight people per screening regardless of venue size means that while cinemas in Sweden are technically allowed to be open, many have chosen to remain closed. The government has pushed back the planned easing of many restrictions from May 3 to an unconfirmed date.
Switzerland - OPEN
A capacity limit of 50 people or 1/3 of the screening room (whichever is lower) is in place, with mandatory mask wearing, a ban on F&B sales and consumption and contact tracing.
Taiwan - OPEN
Tunisia - CLOSED
Turkey - CLOSED
Reopening date: Not before May 17
UK - CLOSED
Reopening date: April 12 (England, drive-in cinemas); May 17 (England, Scotland, Wales); May 24 (Northern Ireland)
A capacity limit of 50% occupancy, with a 1,000-person limit, will be in place for England. The UK Cinema Association has reiterated its opposition to any requirement that UK cinemas might be required to ask customers to 'prove' their Covid-free status when sites are allowed to reopen.
Ukraine - OPEN
United Arab Emirates - OPEN
US - OPEN IN AREAS
Open, by capacity limit:
20-29%:
Colorado
District of Columbia
New Jersey
New Mexico
New York
Pennsylvania
Rhode Island
Virginia
50-69%:
California
Connecticut
Delaware
Hawaii
Illinois
Kentucky
Maine
Maryland
Massachusetts
Michigan
Minnesota
Nevada
New Hampshire
North Carolina
Oregon
Tennessee
Vermont
Washington
70-90%:
Louisiana
Social distancing:
Alabama
Arizona
Arkansas
Florida
Georgia
Idaho
Indiana
Kansas
Mississippi
Missouri
North Dakota
Ohio
Utah
West Virginia
Wyoming

Restrictions lifted:
Alaska
Iowa
Montana
Nebraska
Oklahoma
South Carolina
South Dakota
Texas
Wisconsin
Many counties and metro areas within different states are applying their own restrictions.