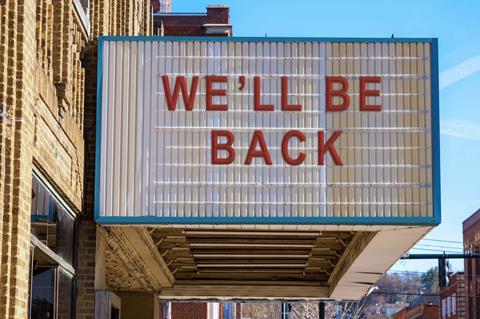 As cinemas deal with the third wave of closures in 2021, Screen charts the situation in markets across the globe.
This page will provide updates for each territory as they come through, with details on dates, distancing, and distribution where relevant.
Information on European territories has been collated in conjunction with the Union Internationale des Cinémas (UNIC). Dates and timelines have come from national authorities and should be regarded as provisional and subject to change.
Albania - OPEN
Albania has a curfew, with all citizens required to stay at home from 11pm until 6am
Algeria - OPEN
American Samoa - CLOSED
Austria - OPEN
Masks covering the nose and mouth must be worn by all cinema attendees in Vienna; rules are set to be tightened further on October 1.
Bahrain - OPEN
Belgium - OPEN
Bosnia & Herzegovina - OPEN
Bulgaria - OPEN

China - OPEN
Croatia - OPEN
Cyprus - OPEN
Czech Republic - OPEN
Denmark - OPEN
Egypt - OPEN
Estonia - OPEN
Finland - OPEN
The government has submitted a proposal for a coronavirus pass to the Finnish Parliament.
France - OPEN
Greece - OPEN
Cinemas have the option to operate as 'Covid-free' (for twice-vaccinated people only) and 'mixed' spaces.
Hong Kong - OPEN
Hungary - OPEN
Iceland - OPEN
Iraq - OPEN
Ireland - OPEN
Israel - OPEN
Italy - OPEN
Jordan - OPEN
Kosovo - OPEN
Kuwait - OPEN
Latvia - OPEN
Lebanon - OPEN
Libya - OPEN
Lithuania - OPEN

Luxembourg - OPEN
Malta - OPEN
Montenegro - OPEN
Morocco - OPEN
Netherlands - OPEN

North Macedonia - OPEN
Norway - OPEN
Oman - OPEN
Palestine - OPEN
Poland - OPEN
Portugal - OPEN
Portugal will lift almost all remaining Covid-19 restrictions, allowing full occupancy in cultural venues, from October 1.
Qatar - OPEN
Romania - OPEN

Russia - OPEN
Saudi Arabia - OPEN
Serbia - OPEN

Singapore - OPEN
Slovakia - OPEN
Slovenia - OPEN
Spain - OPEN

South Korea - OPEN
Sudan - OPEN
Sweden - OPEN
Switzerland - OPEN
Taiwan - OPEN
Tunisia - OPEN
Turkey - OPEN
UK - OPEN
Ukraine - OPEN
The government extended the country's state of emergency until the end of 2021, announcing a 'yellow' epidemic level which imposes limits on the number of people who can be at public venues, and including mandatory mask-wearing and distancing.
United Arab Emirates - OPEN
US - OPEN
Many counties and metro areas within different states are applying their own restrictions.