Fox International Productions president Tomas Jegeus on Monday identified the potential of local-language hits to succeed beyond their native borders in a broad presentation in Las Vegas.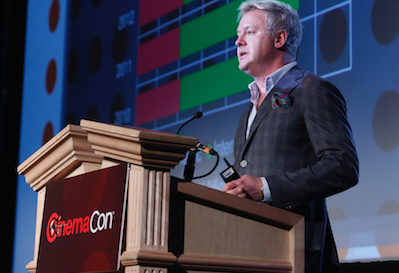 Seven months after the former co-president of worldwide theatrical marketing and distribution filled the role vacated by Sanford Panitch, Jegeus spoke confidently about global production hubs and the complementary interplay between local and Hollywood releases.
"Local-language films are not confined to local borders," said Jegeus during his seminar at Caesars Palace. "It doesn't happen often but there's great potential for these films to break out."
One shining example was French smash The Intouchables, which grossed more than $400m worldwide and took 51% of that revenue outside France. The 2012 comedy remains the highest grossing French film outside its home country.
Jegeus noted that recent Fox Star release P.K. took 32% of its global haul outside India, where it grossed around $76m.
South Korean smash The Admiral was also cited as big success beyond its borders, as was Pablo Trapero's Argentinian kidnap drama The Clan, Fox's biggest release in the territory last year.
The executive identified Spain and Russia as core local-language markets for the company and said FIP was developing several properties. Success with Dragon Ball 1 and 2 also indicated that Japanese anime promised riches if handled correctly.
Jegeus highlighted the massive $526m success of Chinese hit The Mermaid, which would rank as the sixth biggest domestic release in history had it achieved that number in North America.
On that point, the FIP chief bucked a trend when he said China could overtake North America to become the biggest box office market as early as this year.
The country's box office gained 48.7% from 2014-2015 and reached $7.1bn, yet most commentators and speakers at the convention so far have speculated the switch might happen in 2017.
FIP is developing six projects in China including a US-China co-production and a UK-China co-production, with several Europe-China collaborations in the pipeline.
India, Latin America and the UK are also territories with growth potential in the local market, as is Indonesia, which Jegeus reminded attendees is the world's fourth most populous country yet under-served by screens.
Since launching in 2008, FIP releases have generated more than $1bn.
Warner Bros Pictures International evp of international distribution Tom Molter (second picture) expressed similar sentiments when he kicked off the International Day in his keynote.
"A vibrant local production market drives cinema-going, which is good for all of us," said Molter.
The executive highlighted the rise of teach-savvy Millennials and their fondness for cinema-going, while reminding attendees they were consuming entertainment on mobile devices more than any other group – 14% share of all platforms (computers and TVs) compared to 7% by Generation X'ers and 3% by the Baby Boomers.
"We must continue to produce films that appeal to changing tastes and demographics," said Molter, adding: "High-quality, large-screen experiences that appeal to everyone including the fickle Millennials."
Photo credit: Ryan Miller/Capture Imaging, Inc for CinemaCon.