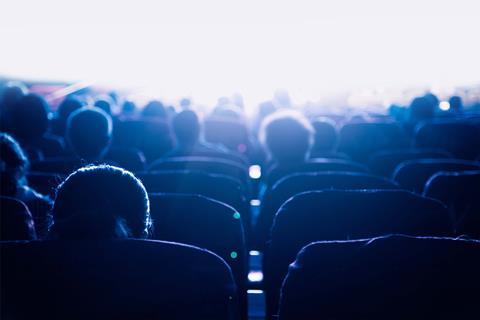 National Association of Theatre Owners (NATO) chief John Fithian struck a typically defiant tone during his industry remarks at CinemaCon on Tuesday (April 24), separately sharing with reporters his concerns over the sustainability of theatre-going subscription services.
"First, our industry is more dynamic than ever," Fithian told show delegates inside the Colosseum in Caesars Palace, Las Vegas. "The word disruption is thrown around way too much. Nothing needs to be disrupted when it comes to the basic goal of our industry: bringing people together to share a communal experience. But that doesn't mean exhibitors won't innovate.
"From new heights in sight and sound, to enhanced food and beverage options, to luxury seating and beyond, our members are dramatically enhancing the experience."
Fithian said the theatrical model remained strong despite had challenges over the years from VHS, DVD, streaming, shortened windows, PVOD and subscriptions.
"Yet we never die but remain a strong business in the face of disruption everywhere else in the entertainment landscape."
The NATO president and CEO noted how Disney/Marvel Studios' Black Panther recently became the first $1bn global hit to open in February and contributed to the second highest first quarter of all time at the North American box office.
"Would Black Panther, Get Out, Wonder Woman or any other major recent hit have become significant cultural landmarks if they went straight to streaming?" Fithian said. "Of course not. Their impact is a direct result of people experiencing them in a communal way."
He cited a new study by Ernst & Young that canvassed 1,400 people who watched at least one film in theatres in 2017 and spent one hour a week on streaming services. The study found that 33% of moviegoers who watched nine or more films a year – twice the national average – also spent 15 or more hours a week on streaming platforms.
"People who consume a lot of content do so across multiple platforms," Fithian said. "A robust theatrical release helps a movie stand out among myriad choices on digital platforms. The movie industry is not a zero-sum game. The more movie lovers we can create, the better off we all are. And it starts with movie theatres.
"The idea that younger adults aren't passionate moviegoers is a myth. According to data from
ComScore – NATO's official data partner –moviegoers aged 18-44 constituted 63% of the total box office in 2017, up from 61% in 2016. 13-24 year olds accounted for 36.1%, up from 35.6% the previous year."
In his first address since becoming chairman, and CEO of the Motion Pictures Association Of America (MPAA), Charles Rivkin struck exactly the note exhibitors at CinemaCon wanted to hear when he stressed the body's top priority was fighting piracy and said, "The theatrical experience will always be at the heart of what we do and that heartbeat is strong."
Rivkin, a former US ambassador to France, assistant secretary of state for economic and business affairs, and former head of The Jim Henson Company, pledged his commitment to copyright protection, the support of an industry within the US that provides economic opportunity to more than 400,000 businesses, and open trade with international partners that enable "one of the most valuable and impactful exports we have" to flourish.
"More than anyone you see and understand the people behind the box office numbers and statistics," Rivkin said. "You're on the front lines where the vision of our studios meet the audiences, you see what works and what doesn't work, so on behalf of the MPAA I'm here to state my commitment to you so we can continue to grow well into the future."
Speaking to reporters after the address, Fithian expressed concern over theatre-going subscription services.
While he could not speak directly on any particular service because of anti-trust rules, the NATO chief's comments come in the wake of the media coverage on MoviePass, the fastest-growing entertainment subscription service that has drawn more than two million members and offers one cinema trip per day at a cost of $9.95 per month.
Fithian's particular concerns centre on the sustainability of subscription services – MoviePass pays exhibitors the price of each ticket – and privacy issues stemming from the use of the customer data owned by a service.