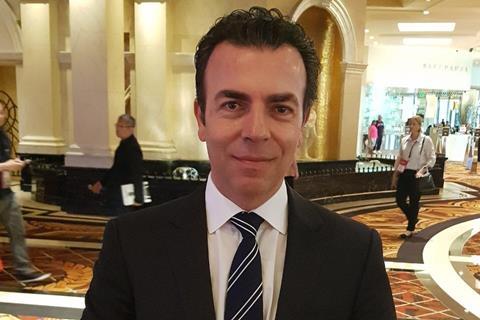 Alejandro Ramírez Magaña of Mexican exhibition giant Cinepolis urged CinemaCon delegates on Tuesday (April 24) not to be sidetracked by the debate over release windows.
Magaña pointed to the health of the theatrical business and referenced last year's record $40bn global box office – a number that will be repeated more than any other this week – as he noted that the most recent MPAA report said global box office accounted for 46% of combined theatrical and home entertainment consumer spend.
The executive, who took to the stage at the Colosseum in Caesars Palace where he became the first non-US exhibitor to receive the NATO Marquee Award, said the 46% number was the same five years ago. "In other words the theatrical business is alive and health," he said, adding: "An exclusivity period for the theatrical window is critical for the health and continued success of the movie-making business and should not be compromised."
Yet Magaña was clear that online services could not be ignored and served to help the theatrical business. Social media played an important role in audience engagement and building loyalty programmes and he said eventually the role of big data would become more integral in the film industry.
Magaña also urged content creators to bear in mind the range of customers. "As much as we value and rely upon large tentpole films… we need to remember there are diverse audience out there and as an industry we need to ensure there is content for everyone. We hope they will continue to make the mid-size comedies and dramas that are so important to our audiences."
Magaña heads the Global Cinema Federation (GCF), an initiative to bring together international exhibitors with NATO and UNIC (The International Union Of Cinemas) that was launched last year in Barcelona to tackle issues such as theatrical exclusivity, piracy, technology, international trade and investment, music licensing, and access for film-goers with disabilities.
On Monday Magaña delivered an update on GCF's work and warned that the survival of trade agreements like NAFTA and TPP were essential to the well-being of members' constituents.
After initial hostility on NAFTA, US president Trump's negotiators are working to settle on what the president will deem better terms for American workers. He made the US pull out of TPP in January 2017.
While Magaña expressed cautious optimism over future trade dealings with the US, the executive, whose company operates in 14 markets and imports and exports "all the time", said: "If NAFTA comes to an end, we will be forced to pay a tariff to import corn from the US [for popcorn], and if that's the case we may import cheaper corn from Argentina or Brazil." The European Union and Mexico have just signed a trade deal that all but eliminates tariffs.
The theatrical window is a subject close to Magaña's heart. During Monday's GCF update he said, "This is a critical issue because it's about the health of global box office."