Keynote speaker John Zeng delivers five-point plan for foreign fare; highlights growth in second and third-tier cities.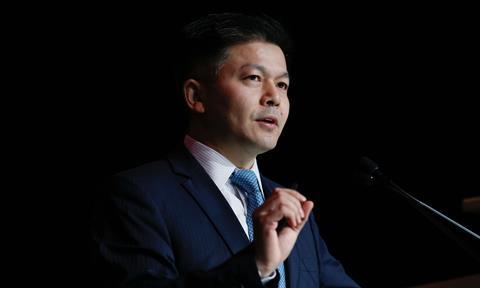 International filmmakers must champion action films with strong visual effects and pick releases dates carefully if they are to succeed in China's increasingly competitive distribution landscape, top Chinese executive John Zeng told Las Vegas attendees on Monday.
Outlining the final points in his five-point roadmap to success, Zeng urged content creators to invest in digital and social media campaigns, secure exhibitor support for marketing innovations, and establish alliances with powerful local partners.
In a wide-ranging keynote address at the start of CinemaCon's International Day that tellingly did not address the quota system, the senior vice-president of Wanda Cultural Industry Group, president and board director of Wanda Cinemas, and board director of AMC Theatres touched on several overall trends.
"The trend of consolidation will be unstoppable," he said, adding that film-going has become a regular habit in China, online platforms driven by mobile account for about 80% of all ticket sales, and screens will continue to grow at a high rate.
The genres that work in China
"Chinese audiences favour Hollywood films with strong IP, visual effects and creativity," Zeng said.
He highlighted the triumphant theatrical release of titles like Zootopia, which grossed $221.8m in China compared to $341m in North America, and Warcraft, which earned $213.4m in China, in stark contrast to the $47.4m North American gross.
The $71.7m launch last weekend of Kong: Skull Island and recent $163m gross achieved by XXX: Return Of Xander Cage further illustrate the point.
Turning to local product, Zeng noted the success of comedy, romance and action titles.
However original Hollywood stories bearing strong hallmarks of American culture were generally not so well received. Finding Dory, for example, mustered $37m in China compared to $486.3m in North America, while Maleficent grossed $43m against $238m in North America.
Zeng cited "super blockbusters" that performed strongly in both territories, such as Furious 7, Transformers: Age Of Extinction, Avengers: Age Of Ultron, and Captain America: Civil War.
The executive emphasised the importance of carefully constructed marketing campaigns. Warcraft enjoyed particular success in this area. The film – the third biggest film of the year in China and the second biggest imported release – was the subject of themed theatres, in-theatre marketing, a VR experience, and mechandising.
Lower-tier city growth provides optimistic box office forecast
The executive reiterated data from last week's annual report by the Motion Picture Association Of America, noting that China's box office in 2016 reached $6.6bn for 17% share of the $38.6bn worldwide haul.
While the 2016 slowdown saw a drop from $6.8bn in 2015, Zeng said the longer-term rise — China's box office has climbed drastically since the $2.5bn level in 2012 — was good news.
Box office continues to grow in the lower-tier cities, with the second, third and fourth-tiers representing a combined 40.9% year-on-year increase.
Growth was most pronounced in the third and fourth categories, which saw 19.3% and 15% growth, respectively.
By comparison, growth in the second tier remains the largest even though it has been slowing down since 2013 and recorded 41.7% in 2016 against 42.1% growth in 2015. Growth in first-tier cities has been in steady decline since 2012 and dropped to 17.4% in 2016 compared to 21.2% the year before. The average ticket price in China in 2016 was $4.80.
Opening weekend in China is critical
Zeng said the increasingly busy distribution arena meant it was more important than ever for imported films to establish a strong foothold on opening weekend.
On average, imported films in 2016 earned 50.7% of their entire box office on opening weekend, compared to 45.2% in 2015, and 38.5% in 2014.
There were 41,179 screens by 2016 in China compared to 40,174 in North America, representing a 30.2% rise versus 1.3% for North America. There are now more than 400 circuits in China compared to 93 in North America.
Attendance in China has overtaken that of North America. Levels climbed 8.9% year-on-year to 1.37bn in 2016 compared to a 1% rise in the more mature North American market, which reached 1.33bn.
There were 33,254 attendances per screen last year and 1.73 attendance per capita based on urban populations. China's urban population of 771m is almost half the overall 1.34bn number, whereas the North American population level is 324m.
There were 457 films released in China in 2016, of which 376 were local and 81 or 18% imported. However imports over-indexed at the box office and represented 41.7% of total revenues.
Some 86 films grossed more than 100m RMB and contributed to 91% of overall box office. Of those, 41 of were imports.
The dominant age of film-goers in China is the 18-39 bracket, which accounted for 71% of film-goers in 2016 compared to its 51% share of the overall population. This compares to 49% and 47% in North America based on the MPAA's statistics released last week.
Unlike in North America, the 50-59 bracket is not so influential and accounts for 7% of film-goers despite a 17% share of the population in China. Comparable figures for the demographic in North America are 18% and 21%.
Photo: Ryan Miller Capture Imaging for CinemaCon.