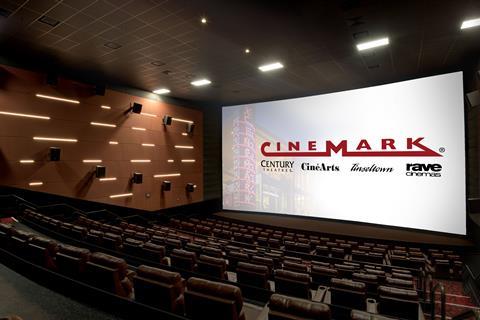 Cinemark, the third largest exhibitor in the US, said on Friday (May 7) it has reached agreements for nationwide screening of films with all five US majors.
After striking an agreement with Universal Filmed Entertainment Group last year, Cinemark has reached deals with Warner Bros, Paramount, Disney, which owns 20th Century Pictures and Searchlight Pictures, and Sony Pictures Entertainment.
Terms of the deals were not disclosed. Each deal contains "unique attributes specific to the individual studio that mutually benefits both parties".
The announcement comes as the vaccination programme in the US has enabled authorities to relax restrictions across the country, depending on the region. Los Angeles County has just entered the least restrictive yellow tier, which paves the way for cinemas to move up to 75% capacity in their venues.
Upcoming wide releases include Stage 6 Films' Billy Crystal and Tiffany Haddish comedy Here Today via Sony, and Jason Statham action thriller Wrath Of Man through UA Releasing this weekend; Warner Bros' Angelina Jolie thriller Those Who Wish Me Dead, Lionsgate's Saw spin-off Spiral, and Focus Features' thriller Profile next weekend; and Paramount's A Quiet Place Part II starring Emily Blunt and Disney's Cruella with Emma Stone on Memorial Day holiday weekend on May 28.
Under the prior deal with Universal, the studio has the option to put its releases on PVoD platforms after 17 days of exclusive theatrical engagements at Cinemark sites. The films can continue to play in cinemas.
Releases that gross more than $50m in opening weekend can remain exclusively in cinemas for 31 days. AMC and Canada's Cineplex have similar arrangements with Universal.
There has not been a unform approach to windowing since the pandemic forced cinemas to close and accelerated change.
Universal was first out of the gate last year with its 17-day PVoD strategy; and last December WarnerMedia sparked outrage when it announced a day-and-date theatrical and HBO Max approach for all Warner Bros releases in 2021. After that abrupt announcement blind-sided talent and drew fire from the likes of Christopher Nolan and Denis Villeneuve, executives struck "make-good" deals with talent on certain films.
Paramount heads said they will release films on to its new Paramount+ platform and Epix after a 45-day theatrical run; and Disney began to release films first on Disney+ last year and has engineered a day-and-date theatrical-Disney+ Premier Access model for the likes of July 9 release Black Widow. Sony has no establised post-pandemic policy as yet.
"Cinemark is thrilled to have reached new agreements with our major studio partners, and we are eager to continue providing movie fans an immersive, larger-than-life cinematic environment to see major upcoming films, ranging from the biggest blockbusters to specialty fare to family-friendly content," said Cinemark CEO Mark Zoradi.
"In our ongoing efforts to maximise attendance and box office during the pandemic and beyond, our goal is to provide the widest range of content with terms that are in the best long-term interests of Cinemark, our studio partners and moviegoers. We are pleased with these recent developments and are confident we are taking positive steps toward reigniting theatrical exhibition and evolving the industry for a post-pandemic landscape."
Earlier on Friday Zoradi said the company was "on the road to recovery" after announcing first quarter earnings. Revenue fell to $114m from $543m in the year-ago period. Cinemark posted a net loss of $208m against to $59.6m in the first quarter of 2020.
Separately, in its first quarter earnings call on Thursday AMC, the world's largest cinema chain, reported a $576m net loss, a vast improvement on losses of more than $2bn for the year-ago period that forced the company to take a $1.85bn write-down.The company has used various means to stay afloat in the past year, including debt and equity raises.
Revenues reached $148m compared to $941m in the first quarter of 2020. Signalling a recovery on the horizon, CEO Adam Aron quoted Winston Churchill who said in 1942, three years before the end of the Second World War: "This is not the end. It not even the beginning of the end. But it is perhaps the end of the beginning."
Aron said roughly seven million people worldwide visited AMC cinemas in the US in the first quarter. Nearly all sites have reopened, albeit at restricted capacity. He expected AMC would hire between 5,000 and 10,000 staff in the coming weeks as cinemas ramp up.