Documentary from Australian war artist George Gittoes centres on street kids in Afghanistan.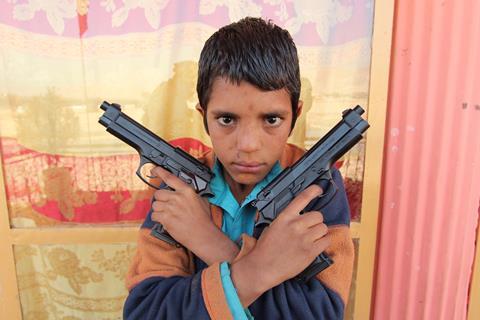 Tel Aviv-based sales company Cinephil has acquired the worldwide right to George Gittoes' Snow Monkey ahead of its international premiere in competition at IDFA (International Documentary Film Festival Amsterdam) (Nov 18-29).
The film is a portrait of daily life in Jalalabad, Afghanistan, where art activist Gittoes recruited gangs of war-damaged children to shoot local, Pashto-style films - vibrant, colorful and infused with the violence they experience on a daily basis.
Gittoes will return to IDFA, which runs Nov 18-29, having previously screened Miscreants of Taliwood, shot in Peshawar with Taliban-besieged filmmakers, some of which have helped create Snow Monkey.
Cinephil MD Philippa Kowarsky negotiated the deal with producers Gittoes and Lizzette Atkins of Unicorn Films.
Executive producers are Norway's Torstein Grude and Bjarte Mørner Tveit for Piraya Film.
Kowarsky said the film "offers an unprecedented understanding of the lives of the people of Jalalabad, breaking through stigmas and stereotypes using arts, music and fun".
As well as 2009's Miscreants of Taliwood, Gittoes previous feature documentaries include Rampage, which screened at the 2006 Berlinale, and The Soundtrack to War (2004), from which several scenes were included in Michael Moore's Fahrenheit 9/11.
Gittoes is set to receive the Sydney Peace Prize today (Nov 10) - previously awarded to Bishop Desmond Tutu, Noam Chomsky and Arundhati Roy - for "exposing injustice for over 45 years as a humanist artist, activist and filmmaker".
Additional recent Cinephil titles include By Sydney Lumet by Nancy Buirski, Night Will Fall by Andre Singer, Invasion by Abner Benaim, The Yes Men Are Revolting by Laura Nix and The Yes Men, and The Dog by Allison Berg and Frank Keraudren.
Cinephil co-produced and is representing Oscar nominee The Gatekeepers and is representing Joshua Oppenheimer's The Act Of Killing, executive produced by Werner Herzog and Errol Morris, as well as Cathedrals Of Culture, a 3D series executive produced by Wim Wenders, directed by Wim Wenders, Robert Redford, Michael Glawogger, Michael Madsen, Margreth Olin and Karim Ainouz.