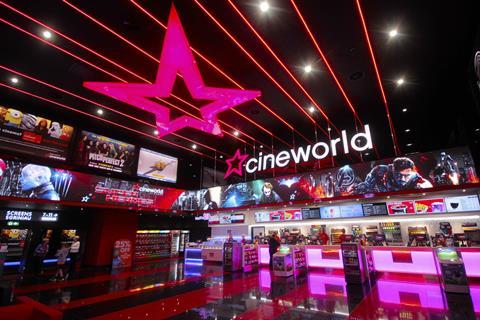 UK-based exhibitor Cineworld has confirmed that it will start reopening its sites from June in some territories, with cinemas in the UK and US set to open on July 10.
Cineworld's major chains include Regal (in the US), Cineworld and Picturehouse (in the UK & Ireland) and Cinema City (throughout Europe).
In a statement, the operator said that the decision was made after several blockbuster movies including Tenet [July 31] and Mulan [July 24] were confirmed for release in the next few weeks.
The full list of scheduled opening dates, subject to government confirmation, are: US on July 10; UK on July 10; Poland on July 3; Czech Republic on June 26; Slovakia on June 26; Israel on July 9; Bulgaria on July 3; Hungary and Romania - TBC but anticipated for week of July 3.
As previously announced, Cineworld will adopt new safety measures as the world continues to grapple with the Covid-19 crisis, including a booking system to ensure social distancing within screenings.
All UK cinemas closed on March 20, but UK prime minister Boris Johnson confirmed that they could reopen in July provided the rate of Covid-19 infections slows. The UK Cinema Association (UKCA) and Film Distributors' Association (FDA) guidelines for the safe reopening of cinemas are expected to be published this week.
Cineworld CEO Mooky Greidinger said: "We are thrilled to be back and encouraged by recent surveys that show that many people have missed going to the movie theatre. With a strong slate confirmed for the coming weeks, including among others Tenet, Mulan, A Quiet Place Part II, Wonder Women 1984, Black Widow, Bond, Soul, Top Gun Maverick and many more, the entire Cineworld team remains committed to being 'the best place to watch a movie.'"
Cineworld pulled out of a $2.1bn deal to acquire Canadian giant Cineplex last week. In May it agreed to new funding, including $110m of liquidity to increase its credit facility, and $45m from the UK's Coronavirus Large Business Interruption Loan Scheme (CLBILS).