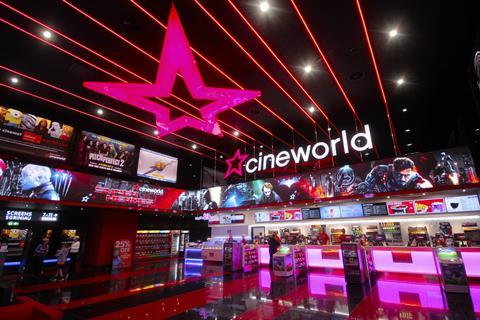 Cineworld Group has reported an operating loss of $208.9m in its interim results for the six-month period ending June 30 2021.
These results include a period of temporary closures of its cinema chains from January to April/May 2021, owing to Covid-19 restrictions and a lack of major film releases.
Total revenue for these six months was $292.8m, a decrease of 58.9% from the year before.
In a statement, Cineworld said: "The overall decrease in total revenue was due primarily to the 70.3% decline in admissions, partially offset by increases in average ticket prices and spend per person across all territories, as well as a lesser decline in other income due to the contractual advertising revenue in the US."
Flexible windows
The statement also set out Cineworld's expectations for the future of the theatrical window: "The main topic in focus throughout the pandemic was the length of the theatrical window. In view of the situation related to Covid-19, the studios entered into various experiments which we believe ultimately will lead to a situation whereby there is a theatrical window but it is shorter than in the past and dependent on the theatrical revenue potential of the movie itself. Currently, movies are being released with windows that are anywhere between 0-60 days. We expect that by 2022, the window will stabilise to somewhere between 20 and 60 days, but subject to each movie's potential.
"A point which has also become clear is the influence of high-quality pirated copies of movies from PVOD (Premium Video On Demand) day and date releases, which can affect a movie's total revenue in a big way, not only in cinemas but also in ancillary markets. As the most affordable out-of-home entertainment option, we believe that cinemas will be back and continue to be the main locomotive of the industry, as they have been so many times in the past despite the arrivals of new technologies, such as TV, video, DVD and others."
Cineworld owns Regal theatres in the US as well as Cineworld and Picturehouse Cinemas in the UK, with 759 sites and 9,269 screens across 10 countries.
CEO Mooky Greidinger said: "Despite the challenges, the actions we have taken have ensured that Cineworld has emerged a more focused business with significant liquidity and a clear vision for the future."
Greidinger said trading has been "encouraging" since the re-opening of cinemas in April. He added: "I am confident that the business is in a strong position to execute its strategy and deliver a return to growth as we recover from the pandemic and capitalise on the forthcoming strong film slate alongside clear pent-up consumer demand."