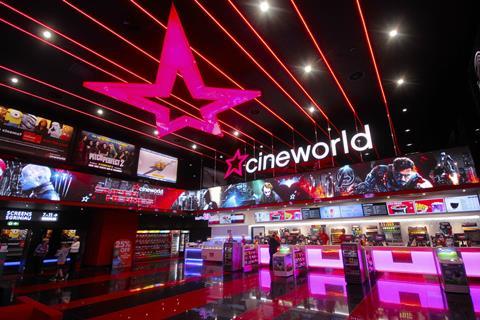 Tensions between Universal and the exhibition community continued to flare up as Mooky Greidinger, CEO of UK-based Cineworld, blasted the studio for "inappropriate" behaviour over the Trolls World Tour saga and said the chain will not show films that "fail to respect the windows".

A press release issued by the chain on Wednesday (April 29) took Universal to task for what it portrayed as a unilateral move over the decision to release the family film on premium VOD after the coronavirus pandemic forced the closure of theatres around the world.
It said Cineworld, which owns Regal Entertainment, will not show films that "fail to respect the windows" as such a move does not make economic sense for the exhibitor.
"Universal unilaterally chose to break our understanding and did so at the height of the Covid-19 crisis when our business is closed," the statement read, "more than 35,000 employees are at home and when we do not yet have a clear date for the reopening of our cinemas.
"Universal's move is completely inappropriate and certainly has nothing to do with good faith business practice, partnership and transparency."
Greidinger said he approached Brian Roberts, chairman of Universal parent company Comcast, on March 19 after Universal announced its plan for Trolls World Tour, and said:
"Nice words from your team are worthless if we cannot trust you as a partner. The message that the media has portrayed is, 'Hollywood breaks the window' – well, this is not true! All our partners called us in timely manner and told us that in the current situation they want to shorten window for movies that were already released as cinemas are closing, most importantly, they all reassured us that there will be no change to their window policy once the cinema business returned.
"Unfortunately I missed similar message in Universal's announcement… not only did Universal provide no commitment for the future window - but Universal was the only studio that tried to take advantage of the current crisis and provide a 'day-and-date' release of a movie that was not yet released."
The Cineworld press release also said, "Cineworld's policy with respect to the window is clear, well known in the industry and is part of our commercial deal with our movie suppliers. We invest heavily in our cinemas across the globe and this allows the movie studios to provide customers all around the world to watch the movies in the best experience. There is no argument that the big screen is the best way to watch a movie."
It added, "Cineworld's roots go back 90 years in the industry and it was always open to showing any movie as long as the rules were kept and not changed by one sided moves. Today we make it clear again that we will not be showing movies that fail to respect the windows as it does not make any economic sense for us.
"We have full confidence in the industry's current business model. No one should forget that the theatrical side of this industry generated an all-time record income of $42 billion last year and the movie distributors' share of this was about $20 billion."