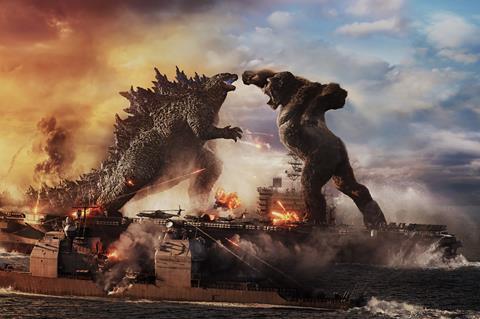 Cineworld is to reopen its Regal theatres in the US in April, for the first time in six months, and has struck a new multi-year agreement with Warner Bros that will shorten the theatrical window.
The phased reopening will kick off with a limited number of cinemas opening for Godzilla vs. Kong on April 2 and going wider with Mortal Kombat on April 16 – both Warner Bros titles. Cineworld, which is the world's second biggest exhibitor, operates 536 Regal theatres in the US.
Cineworld also plans to reopen in the UK, its second biggest market, on May 17, in line with government guidance. The cinema chain closed all 127 of its UK and Ireland venues on October 8, including its Picturehouse sites, because of the pandemic and shortfall in major studio releases.
Cineworld CEO Mooky Greidinger said: "With capacity restrictions expanding to 50% or more across most US states, we will be able to operate profitably in our biggest markets. We will also be monitoring developments closely in the UK and across Europe as we set to gradually reopen across the world in line with local government guidance."
In addition, Cineworld has agreed a multi-year agreement under which films from Warner Bros. Pictures Group will be exhibited in Cineworld's cinemas in the US as of their opening. Beginning in 2022, Warner Bros. theatrical releases will have a 45-day window of theatrical exclusivity, with certain provisions. This is a reduction on the existing US window of around 75 days. The exhibitor would not elaborate on what these "provisions" involve.
In the UK, Warner Bros. and Cineworld have agreed to an exclusive theatrical window of 31 days prior to PVoD, and an extended window of 45 days for films that open to an agreed upon box-office threshold. This is a significant reduction on 2019, when the average window across all UK releases was 109 days.
Following the announcement, analysts at Morgan Stanley said: "This cements an industry-wide shortening of the window, a negative for exhibitors and reflecting of increased PVOD/streaming risk, now applied to the US and Cineworld's second largest market, the UK.
"We expect further moves in this direction with peers AMC and Cinemark having already signed a similar PVOD deal with Universal (17 days), and we see Cineworld's options here as either agreeing to a similar deal to peers or not showing Universal movies that represent ~15% of the US box office."
However, Cineworld CEO Greidinger said the move was a positive one and added: "This agreement shows the studio's commitment to the theatrical business and we see this agreement as an important milestone in our 100-year relationship with Warner Bros.
"This is a great moment for us - the US market represents 75% of our business - and soon will be followed with all our markets. We are great believers in the theatrical experience, which only a year ago [2019] generated $43bn worldwide."
In November, Cineworld revealed it had secured $750 million of "additional significant liquidity" as it attempted to deal with the huge fall out for cinemagoing from the Covid crisis.
The measures included a new debt facility of $450m, agreed bank covenant waivers until June 2022, and an accelerated tax year closure to bring forward an expected tax refund of over $200m to early 2021. Additionally, Cineworld managed to renegotiate the rental terms for its sites. The actions were said to have reduced monthly cash expenditures to around $60m while cinemas remain closed.