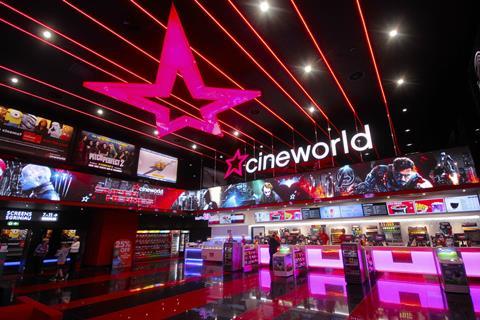 Cineworld has struck deals with Disney and Universal to exhibit theatrical releases in the UK and in the US through its Regal division.
The development comes after a prior pact with Warner Bros and adds momentum to signs of pandemic recovery for exhibition and studios amid widespread vaccination roll-out in both countries.
Regal began to reopen sites last month, and Cineworld is due to reopen venues in the UK starting next week as the studios prepare to unleash a limited roster of summer tentpoles in cinemas – not all of which will be exclusive theatrical releases as the new paradigm falls into place.
It is understood the Disney deal means UK Cineworld sites and those operated by Regal in the US will screen upcoming summer tentpoles Cruella (May 28 in US and UK), Black Widow (July 9 in US and UK), and Jungle Cruise (July 30 in US and UK), all of which fall under the studio's day-and-date theatrical-Disney+ Premier Access model.
Later in the summer and early autumn come Free Guy (August 13 in the US and UK) and Shang-Chi And The Legend Of The Ten Rings (September 3 in the US and UK).
Disney CEO Bob Chapek said on Thursday (May 13) that the last two films will get an exclusive 45-day theatrical window – they become Disney's first theatrical-first releases this year – prior to launching on unspecified digital platforms.
Earlier in the week it emerged Cineworld had agreed theatrical terms with Universal, which has F9 set to roll out in the US on June 25 and in the UK on July 8. The US component is similar in structure to deals between the studio and AMC, Cinemark and Canada's Cineplex circuit, whereby Universal can opt to move a release to PVoD after 17 days in Regal cinemas (the film can continue to play in cinemas), or after 31 days if opening weekend scores $50m or above at opening weekend box office.
As Screen was the first to reveal in December, Universal top brass see this arrangement extending beyond the pandemic.
In the UK, Cineworld gets a 31-day exclusive theatrical window before a film heads to PVOD, rising to 45 days if it reaches a box office target.
The deal with Warner Bros in the UK is the same: a film plays exclusively in cinemas for 31 days prior to PVOD, rising to 45 days if it hits specified box office.
Regal cinemas will carry Warner Bros films in the US, where this year the studio's entire slate goes out theatrically and on HBO Max on the same day. Starting in 2022, Regal gets 45 days theatrical exclusivity prior to digital.
According to Deadline, which broke the news, Cineworld is in talks with Sony and Paramount.