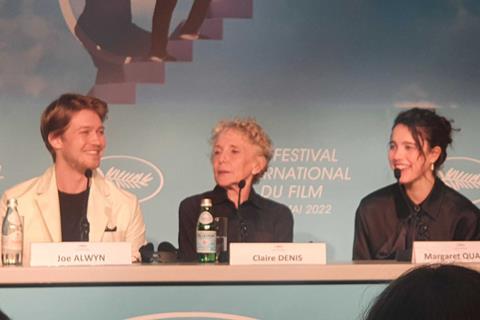 Making films is harder for women than for men, according to French director Claire Denis at Cannes today.
"I had no choice [in being a woman director], as I was a woman since my birth," said Denis, speaking at the press conference for her Competition title Stars At Noon. "It's much better now. It's really hard for men and women to do movies; it's harder for women.
"But women are tough – it's important to be tough when making films," continued the director. "They have a sort of obstinance that makes them walk often only on the tracks they like."
Denis was joined by cast including Joe Alwyn and Margaret Qualley; and collaborators including co-writer Lea Mysius, who is also at the festival with her directorial debut The Five Devils in Directors Fortnight.
"[Lea] experienced her debut as a filmmaker very differently from how I did," said Denis. "But probably there is a part of luck – but that's where you realise a producer can choose you for the best reason, not for the worst, very often."
She revealed that she first saw Qualley in Quentin Tarantino's Once Upon A Time In Hollywood in Cannes in 2019, and was drawn to cast her due to her scenes playing a hitchhiking member of the Manson family in LA
"We had to wait so long to do this film because of everything; and Margaret waited," said Denis. "Because she waited, I thought – then I have to do it. She cannot wait for nothing."
Location scouting
Qualley detailed Denis' location scouting process. "We'd come upon these random places… Claire would be like 'no, let's turn this way', and then go down the road for 20 minutes and say 'it's here'" said Qualley.
"And it would be like 'you're right, it is here'. She's led by instinct, it's really marvellous to witness."
Co-star Alwyn signed up for the film simply "because Claire asked". Upon landing in Panama to prep for the shoot, "Claire greeted me outside the hotel with rum" said Alwyn.