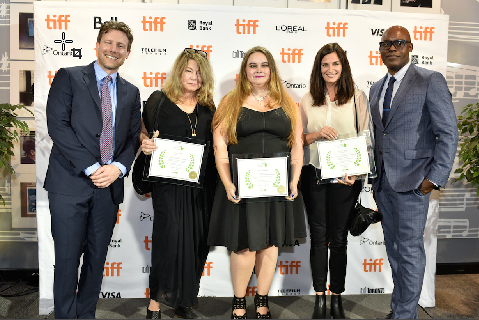 The Canadian Media Producers Association (CMPA) revealed the winners of the 2018 CMPA Indiescreen Awards on Thursday afternoon (September 6), kicking off TIFF.
The Film Farm's Simone Urdl (pictured second from left) and Jennifer Weiss (pictured second from right), whose Falls Around Her will receive its world premiere on Sunday (9) at the AGO's Jackman Hall, won the CMPA's Established Producer Award in recognition of a body of work that has contributed to the development of Canadian film.
Caitlin Grabham of Prowler Film (pictured at centre) was presented with the Kevin Tierney Emerging Producer Award. Her first feature Firecrackers gets its world premiere on Saturday (8) at Scotiabank Theatre.
Grabham was honoured for her "inspiring early-career accomplishments and bright future as an influential filmmaker." Firecrackers was produced through Telefilm's Talent to Watch programme.
CMPA president and CEO Reynolds Martin (far left) said, "It's an honour today to celebrate Simone and Jennifer's inspiring 20-year production partnership, and the fresh, innovative work of Caitlin, one of Canada's most impressive up-and-coming feature film producers. The remarkable work of these three women showcases the best Canadian cinema has to offer."
The CMPA works to promote the Canadian production sector and launched its Indiescreen Awards in 2005 to praise producers "whose vision and entrepreneurship demonstrate a commitment and passion for producing Canadian feature films."
TIFF artistic director Cameron Bailey is pictured at far right.