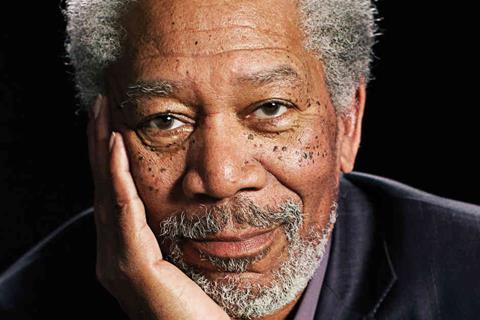 UPDATED: CNN issued a statement on Tuesday branding a request by Morgan Freeman's attorney to retract a story alleging harassment as "unfounded" as it vowed to stand by its reporting.
"The unfounded accusations made by Mr. Freeman's lawyer are disappointing and are difficult to reconcile with Mr. Freeman's own public statements in the aftermath of the story," the atatement read. "CNN stands by its reporting and will respond forcefully to any attempt by Mr. Freeman or his representatives to intimidate us from covering this important public issue."
That prompted a new statement from Freeman's attorney Robert Schwartz of Irell & Manella, who said: "We presented CNN with objective evidence, including videotapes and on-the-record denials by the claimed "victims," that the alleged incident that gave rise to the story never happened. We proved to CNN, beyond any doubt, that the whole story was built on fakery. The credibility of the entire CNN attack on Mr. Freeman has now been undermined. And in choosing to ignore all of the evidence that we presented, CNN has confirmed our concerns about its reporters, its lack of oversight, and its gross misconduct in unjustifiably attacking Mr. Freeman."
Earlier in the day Schwartz demanded CNN retract its story accusing the actor of sexual harassment.
In a letter to CNN president Jeff Zucker, Schwartz wrote: "It is clear that CNN has defamed Mr. Freeman. CNN has inflicted serious injury on his reputation and career. At a minimum, CNN immediately needs to issue a retraction and apologize to Mr. Freeman through the same channels, and with the same level of attention, that it used to unjustly attack him on May 24. CNN also needs to retract the portions of the story that concern [Freeman's producing partner] Lori McCreary and apologize to her for defaming and injuring her."
The letter suggested that CNN reporter Chloe Melas, who co-wrote the original article (with An Phung) and accused Freeman of misconduct personally, "had no reasonable basis to have interpreted what Mr. Freeman said or did at the Going In Style interview last year as having been directed at her or as any form of harassment."
It added: "The problem with Ms. Melas' account, which infected everything that she and CNN thereafter did, is that her version of the interview is false. It is based on her imagining that Mr. Freeman had said or done anything to harass her. However, there is substantial evidence that Ms. Melas imagined an incident, or exaggerated a non-malicious remark wildly out of proportion to reality, to give her a basis to go after Mr. Freeman and cause him the grave harm that CNN's story has inflicted."
Schwartz continued: "No one who read CNN's article about Mr. Freeman was told that it was the product of malicious intent, falsehoods, slight-of-hand, an absence of editorial control, and journalistic malpractice."
After accusations of sexual harassment from multiple women emerged on Thursday (May 24), Freeman responded by saying he would "apologize to anyone [he] might have upset, however unintentionally."
Eight women told CNN that they were victims of either harassment or inappropriate behaviour by the Oscar-winning actor. Another eight women said they had witnessed Freeman's alleged misconduct.
The "devastated" actor on Friday vehemently denied creating unsafe work environments amid allegations of sexual harassment.
He said: "I am devastated that 80 years of my life is at risk of being undermined, in the blink of an eye, by Thursday's media reports. It is not right to equate horrific incidents of sexual assault with misplaced compliments or humour."