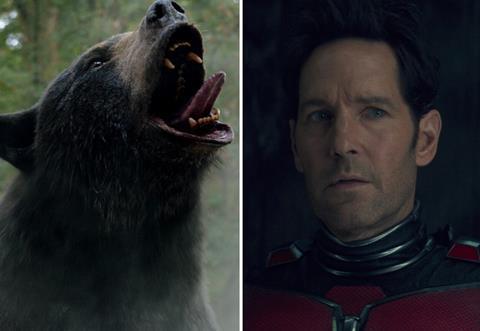 World box office February 24-26
| | | | | | | |
| --- | --- | --- | --- | --- | --- | --- |
| Rank | Film (distributor) | 3-day (world) | Cume (world) | 3-day (int'l) | Cume (int'l) | Territories |
| 1. | Ant-Man And The Wasp: Quantumania (Disney) | $78.6m | $363.6m | $46.4m | $196.3m | 53 |
| 2. | Cocaine Bear (Universal) | $28.4m | $28.4m | $5.3m | $5.3m | 51 |
| 3. | Avatar: The Way Of Water (Disney) | $14.1m | $2.27bn | $9.4m | $1.16bn | 53 |
| 4. | Puss In Boots: The Last Wish (Universal) | $11.5m | $442.5m | $7.4m | $296.1m | 81 |
| 5. | A Guilty Conscience (various) | $8.5m | $25.2m | $8.5m | $25.2m | 7 |
| 6. | The Wandering Earth 2 (various) | $7.8m | $585.4m | $7.8m | $585.4m | 7 |
| 7. | Mummies (Warner Bros) | $6.9m | $18.5m | $6.9m | $18.5m | 57 |
| 8. | Missing (Sony) | $6.1m | $36.5m | $5.1m | $5.1m | 48 |
| 9. | Magic Mike's Last Dance (Warner Bros) | $6m | $48m | $3m | $24.7m | 42 |
| 10. | Albi.com 2 (various) | $6m | $24.9m | $6m | $24.9m | 6 |
Credit: Comscore, click top right to expand. All figures are estimates.
'Cocaine Bear' lands in second place in North America and globally
UPDATE: Blessed with a memorable title and high-concept premise, Universal's comedy thriller Cocaine Bear proved the strongest new release at the weekend, landing in North America with a confirmed $23.3m and $5.3m from 50 international markets for a for $28.5m worldwide haul. The film ranks in second place at the global box office, behind only Disney/Marvel's Ant-Man And The Wasp: Quantumania.
While the international number significantly lags behind North America, UK/Ireland ($1.9m) and Australia ($1.0m) were the only top-tier markets to open the film – with France, Germany, Italy, Spain, Mexico and Brazil all joining the party in March and April.
Cocaine Bear's particular genre positioning means that Universal is offering comparisons with both animal-vengeance titles such as Beast and Crawl and violent R-rated comedies including Game Night and This Is The End.
For the same suite of international markets, Cocaine Bear has opened above 2022 festive home-invasion comedy Violent Night and 2019 drugs-themed misadventure Good Boys, and in line with alligator horror Crawl.
Cocaine Bear is not releasing in Kuwait, Qatar, Bahrain and Oman due to censorship issues, but delivered an estimated $148,000 in Saudi Arabia, landing there in sixth place.
Elizabeth Banks directs from a screenplay by Jimmy Warden – very loosely inspired by a real-life 1985 incident when an American black bear ingested a lost consignment of cocaine.
Next key markets to open the film are France and Mexico, on March 15 and 16 respectively.
'Quantumania' fades fast in North America – holds better overseas
Disney's Ant-Man And The Wasp: Quantumania has experienced a very mixed pattern of burn rates in its second weekend of release, falling hard in North America where the opening session was boosted by its lead into the President's Day Monday holiday, and holding firmer overseas.
The third film with Ant-Man in the title fell 70% in North America with estimated takings of $32.2m, and declined 57% overall in international markets, grossing an estimated $46.4m. Those numbers combine for a second-weekend total of $78.6m, and a cumulative $363.6m.
The film remains either the top film, or the top non-local film, in all markets except Norway and Saudi Arabia.
Among international territories, China leads the way with an estimated $31.5m, ahead of UK/Ireland ($17.8m), Mexico ($13.1m), South Korea ($10.8m) and France ($9.5m).
Quantumania is now 70% of the way to reaching the $519.3m lifetime total of Ant-Man and 58% of the way to matching the $622.7m grossed by sequel Ant-Man And The Wasp. This time around, Russia will not be part of the box office pie.
Quantumania has already overtaken the lifetime totals of four Marvel Cinematic Universe films – The Incredible Hulk, Captain America, Thor and Black Widow – if Russia is excluded from consideration.
Also for Disney, Avatar: The Way Of Water added another estimated $14.1m at the weekend, taking the global total to $2.267bn. The film remains the third-biggest of all time at the worldwide box office, but won't catch global leaders Avatar ($2.924bn) and Avengers: Endgame ($2.799bn).
Animation 'Mummies' lands in global top 10 chart
UPDATE: Warner Bros animation Mummies landed in its country of origin – Spain – at the weekend, as well as in another 55 international markets, grossing a confirmed $8.7m. The film began its international rollout in Australia in early January, and arrived in markets including France and Germany earlier this month. Cumulative total is now $20.2m.
Mummies debuted at number one in Spain with $1.5m – ahead of the second weekend of Ant-Man And The Wasp: Quantumania. Warner Bros expects a strong week with continued school holidays in Madrid today (February 27). It opened in Italy in soecnd place on $773,000.
Mummies is a 4Cats Pictures SL, Anangu Grup SLU and Moomios Movie AIE co-production distributed in Spain by Warner Bros Entertainment España.
In cumulative totals France leads with $3.6m, ahead of Poland on $2.0m, followed by Spain and Germany on $1.4m.
Mummies tells the story of three mummies on their journey to present-day London, searching for a stolen ring. The English-language voice cast includes Sean Bean, Hugh Bonneville and Celia Imrie.
'Searching' sequel 'Missing' lands in international markets
Sony's Missing – which is a stand-alone sequel to 2018 screen-based thriller Searching – has landed in its first international markets, grossing an estimated $5.1m. Including North America (where Missing opened on January 20 and is now in its sixth week of play), the global cumulative total is $36.5m.
The weekend saw Missing gross an estimated $1.5m in South Korea (where Searching achieved an impressive lifetime total of $22.6m, having debuted with $4.5m).
Missing is the joint feature directing debut of Will Merrick and Nick Johnson, who together edited Searching, and is produced by Screen Gems and Stage 6 Films. Storm Reid stars as a teenager who tries to locate her missing mother (Nia Long) after she disappears on vacation in Colombia with her new boyfriend (Ken Leung).
Searching grossed $75.5m worldwide in 2018.
French comedy sequel 'Alibi.com 2' hits $25m
Alibi.com 2 continues to dominate the French box office, adding an estimated $6.0m at the weekend, and taking the total after three sessions to $24.9m. The film is a sequel to Philippe Lacheau's 2016 comedy hit Alibi.com, about a company that provides alibies for marital infidelities.
Lacheau once again directs, co-writes and stars in the sequel, which is lead produced by Axel Films and Baf Prod, and distributed by Studiocanal.