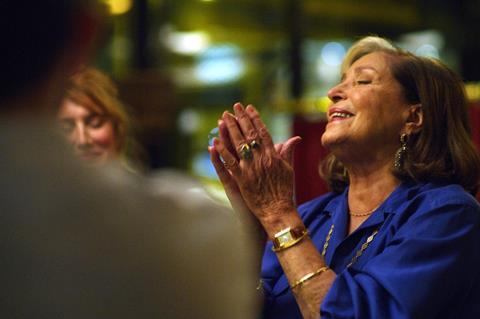 Cohen Media Group has picked up all North American rights from Kinology to actress Aurélie Saada's feature directorial debut Rose starring Françoise Fabian.
The film received its world premiere inat Locarno Film Festival in August and centres on a 78-year-old woman who has just lost her husband of more than 50 years. Devastation gives way to a strong desire to live life to the full even though the woman's newfound joie de vivre threatens to upset the family balance.
The cast includes Aure Atika, Grégory Montel, Damien Chapelle, Pascal Elbé and Mehdi Nebbou. Saada, whose acting credits include Trouble At Timpetill and Molière, co-wrote the screenplay with Yaël Langmann. Priscilla Bertin and Judith Nora of Silex Films produced alongside Elsa Rodde of Germaine Films.
Cohen Media Group SVP Robert Aaronson negotiated the deal with Grégoire Melin, head of Paris-based sales agency Kinology.
Cohen Media Group chairman and CEO Charles S. Cohen said, "With Rose, Aurélie Saada has created a moving portrait of an indomitable woman that moviegoers will take to their heart. We are honoured to be part of her new journey as a filmmaker."
Melin noted the partners' ongoing collaboration six years after Cohen and Kinology partnered on Mustang, which earned an Oscar nomination in 2016 in what was then known as the foreign language film category.
Fabian rose to international stardom in Eric Rohmer's 1969 New Wave drama My Night At Maud's and has starred in other acclaimed films such as Luis Buñuel's Belle de Jour, Jacques Rivette's Out 1, François Ozon's 5x2 and Rohmer's Love In The Afternoon.