Warner Bros session entertains… but nothing on Wonder Woman 2.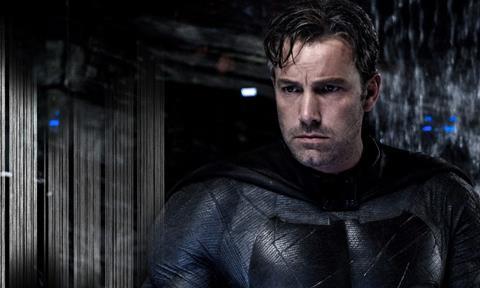 Ben Affleck was evasive on unconfirmed reports last week that he may not figure in Warner Bros' plans to play Batman for much longer.
The actor focused on the November 17 release of Justice League and told Hall H attendees how thrilled he was to be playing the Caped Crusader during a lively DC Entertainment portion of the star-packed Warner Bros session on Saturday morning.
As previously reported, Affleck will not direct The Batman, which has fallen into the lap of War For The Planet Of The Apes director Matt Reeves. According to report, Reeves has said he intends to keep Affleck in the role, however reports have speculated the actor may not figure in future iterations.
Jason Momoa AKA Aquaman kicked off the DC session, running through the crowd on to stage, brandishing a trident and playing air guitar with it. Momoa flew in from the set in Australia On Friday.
That set the tone for a DC Entertainment session that was unusually lively and finally gave the studio something to feel good about given the global success of Wonder Woman earlier in the summer after years of glum, sub-par box office performances.
James Wan introduced exclusive footage of Aquaman from Australia via video ahead of the December 21, 2018 release. The scene showed what Momoa later revealed to be the villainous Ocean Master's huge underwater fleet gliding beneath two men fishing in their small boat. In another sequence, Aquaman gets ready to fight.
Momoa was joined on stage by Affleck, Ezra Miller as The Flash, Gal Gadot as Wonder Woman, and Ray Fisher as Cyborg.
The panel did not feature any announcements on Wonder Woman 2. Patty Jenkins has been in talks to reprise her directing role but so far there has been no confirmation.
Earlier the Blade Runner 2049 team appeared on stage. Director Denis Villeneuve and stars Harrison Ford, Ryan Gosling and Ana de Armas were among the line-up with Alcon Entertainment principals.
'I didn't want somebody else to fuck this up,' says Villeneuve when asked why he directed Blade Runner 2049. The French Canadian added that Ridley Scott gave him space, which "was the best gift he could have given me."
Gosling spoke of the moral ambiguity of Scott's original 1982 sci-fi that fascinated him. "It was like being on a football team with The Avengers or something."
"Maybe on a football team with the Justice League," corrected moderator Chris Hardwick, referencing the DC Entertainment IP and getting a laugh.
"The original film explored the ethics of the creation replicants and their utility and we further developed those themes in the story, but I'm not going to tell you anything about it," a typically 'difficult' Ford said.
When asked if his life goal was to reboot every franchise he's been in, Ford said, "You bet your ass it is." Huge laugh. Blade Runner 2049 opens on October 6 in North America and rolls out across much of the world at the same time.
Steven Spielberg and author Ernest Cline kicked off the Warner Bros panel with Ready Player One. Spielberg's adaptation of Cline's bestseller about a video game ace who takes on an evil corporation in the race to control the OASIS virtual reality world is due out on March 30 2018 and stars Tye Sheridan as Wade Watts (known as Parzival in OASIS).
"Life everybody in this room I grew up watching Steven's movies and studying them," Cline said. "They're woven into my DNA."
"When I read Ernie's book it was like the most amazing flash-forward and flashback at the same time," Spielberg said, adding: "I read the book and said they're going to need a younger director. It's more than you can ever imagine – Ernie's imagination – in taking all of us where you took us. I had no idea how I was going to get any of you there, but he was the guide."
Cline said what he has seen of the film "is better" than what he expected. "This movie is going to expose so many people to the concept of virtual reality and change the space with which virtual reality is adopted by civilisation."
Sheridan, TJ Miller, Ben Mendelsohn, Olivia Cooke, who plays Wade's love interest Samantha / Art3mis, and screenwriter Zak Penn take to the stage.
"You can do anything you can imagine in this [virtual] world," Spielberg said. "That in the book is what made me want to jump into the movie."
Cline owns and drives a DeLorean and said he brought his glove box for his first meeting with Spielberg and asked the director of Back To The Future to sign it.