Iron First renewed for second season; The Punisher trailer revealed.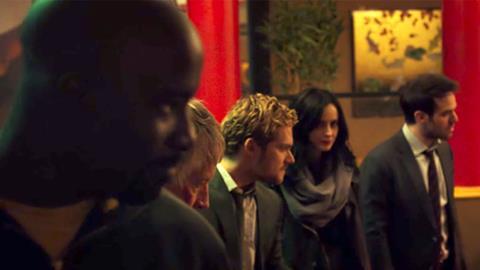 Netflix and Marvel thrilled the massed ranks of Hall H on Friday afternoon by screening the first episode of The Defenders.
Executive producer and Marvel head of television Jeph Loeb, whose division has an impressive 14 series either broadcasting or in the works, also announced Iron Fist would return for a second season on Netflix.
After a brief session with cast members that included Comic-Con legend Sigourney Weaver (who plays Alexandra) and the core four from The Defenders – Krysten Ritter as Jessica Jones, Charlie Cox as Daredevil, Mike Colter as Luke Jones, and Finn Jones as Iron Fist – Loeb introduced the season premiere of The Defenders.
The episode showed Jessica Jones and Iron Fist teaming up to fight off the Hand after he hurts The Punisher.
Panel attendees included Elodie Yung, Deborah Ann Woll, and Jessica Henwick.
Jon Bernthal added to fan excitement when he appered on stage to present the first trailer of upcoming series The Punisher.
The session rounded off with a new Defenders trailer.
The Defenders launches worldwide on Netflix on August 18.