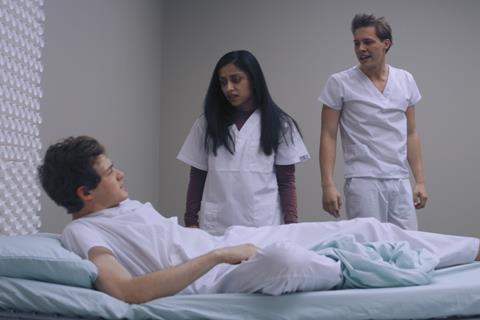 Condé Nast Entertainment (CNE) and Indigenous Media have released six short films by female filmmakers under the auspices of the digital video incubator series Project HER.
Rodrigo Garcia (In Treatment), Lesli Linka Glatter (Homeland), Kasi Lemmons (Eves Bayou), Betty Thomas (Private Parts), and Sarah Treem (The Affair) served as mentors.
The Project HER selections are: 1930s-set mystery drama Beauty; supernatural thriller Black Night (pictured) by Jordan Trippeer; relationship drama Good Eggs by Maria Burton; prison drama The Row by Philiane Phang; quirky drama Snugglr by Georgia Bernstein and Cemre Paksoy; and friendship drama Watch Party by Blythe Haaga Parker.
Each film is available to view on Condé Nast's digital video website, The Scene, and the Project HER Facebook Show Page.
CNE and Indigenous Media collaborated with Josh Hutcherson and Michelle Hutcherson's Turkeyfoot Productions on The Big Script, another incubator series in which the screenplays of five up-and-coming writers and directors were chosen from more than 2,000 scripts from The Black List and developed into 15-minute shorts.
"We strongly believe that the future is female and Project HER is a platform to make women's voices heard, so Condé Nast Entertainment and Indigenous Media are proud to foster a community of up-and-coming creators and established Hollywood talent working together to accomplish that," said Teal Newland, senior vice-president of marketing and new platforms at CNE. "The incubator is a step towards creating an environment where women can explore new forms of storytelling and emerge to go on and navigate and disrupt the current Hollywood system."
"As evidenced by the amazing work that each of Project HER mentors have done, women's voices are indisputably valuable, and the industry has a responsibility to help resolve gender disparity in the business by providing them the opportunities they deserve," Garcia, co-founder of Indigenous Media and Project HER mentor, said.
"We are privileged to work with Condé Nast Entertainment and be able to give these seven talented women an avenue to share their stories," Avnet, co-founder of Indigenous Media, added.