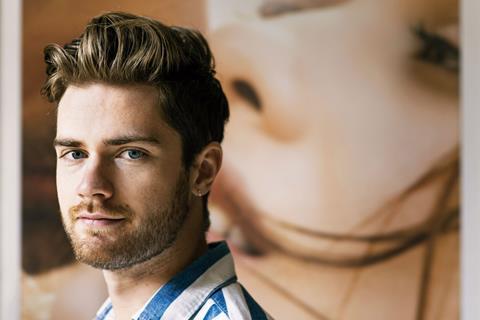 Flanders Image's annual film and TV showcase Connext (October 9-10) will present new work from regional filmmakers including Adil El Arbi and Bilall Fallah, and see Lukas Dhont curate the first edition of new talent showcase The Future Five.
Girl and Close director Dhont will select five emerging filmmaking talents for The Future Five, who will be presented to international industry attending Connext in Antwerp on the event's first day. The initiative is in association with Screen International.
Scroll down for line-ups
Among the feature project pitches is Adil & Bilall's Gangstas, the sequel to 2018 crime film Gangsta. The duo's previous work includes Bad Boys 4 Life, Rebel and the shelved Batgirl project.
Other project pitches include football disaster film Heysel 85, produced by Eight Mountains producer Hans Everaert through Menuetto Film. No director is yet attached.
Feature works-in-progress to be presented include documentary Last Letters From My Grandma, written and directed by Moldova's Olga Lucovnicova, best known for her golden bear-winning short My Uncle Tudor.
Another WIP documentary project is Thom Vander Beken's The Last Jewish Summer, which tells the story of how the Jews of Antwerp were arrested and deported in the summer of 1942.
This year will see the return of the two awards that were presented in the pre-Covid years: the Connext Perfect Pitch and the Connext Work In Progress awards.
Both prizes include a post-production package offered by Flow Post-Production, an online ad package offered by Screen International, as well as 30 hours of coaching by strategic publicist Kathleen McInnis.
The 2020 and 2021 editions of Connext took place online, with the event taking place as a hybrid edition last year.
Features
Project Pitches
The Age of Magic - dir. Peter Krüger (Savage Film)
Fantastique - dir. Marjolijn Prins (Serendipity Films)
Foleyman - dir. Frank Van Passel (Lompvis)
Gangstas - dirs. Adil & Bilall (A Team Productions)
Hasse - dir. Jan Matthys (Bulletproof Cupid)
Heysel 85 - dir. TBC (Menuetto)
Jonah Was Here - dir. Nathalie Teirlinck (Savage Film)
Omhelzing op de Eiermarkt - dir. Pieter De Buysser
Porto Central - dir. Daniel Lambo (Storyhouse)
Real Faces - dir. Leni Huyghe (Mirage)
Têtes brulées - dir. Maja Yde Zellama (Quetzalcoatl)
Tropical Bungalow - dir. by Roland Gunst (Krater Films)
Works In Progress
2m2 - dir. Volkan Üce (Menuetto)
The Anchor - dir. Jen Debauche (Czar Film & TV)
Clean - dir. Koen Van Sande (Cartouche)
Come Back - dirs. Jan Roosens and Raf Roosens (Savage Film)
Julie Keeps Quiet - dir. Leonardo Van Dijl (De Wereldvrede)
The Last Jewish Summer - dir. Thom Vander Beken (Quetzalcoatl)
Last Letters from my Grandma - dir. Olga Lucovnicova (While We're Here)
Milano - dir. Christina Vandekerckhove (Lunanime)
Skiff - dir. Cecilia Verheyden (Mirage)
Soft Leaves - dir. Miwako Van Weyenberg (Prime Time)
The Swirling Tangle - dir. Lucile Desamory (Escautville)
The Weeping Walk - dir. Dimitri Verhulst (Czar Film & TV)
Young Hearts - dir. Anthony Schatteman (Polar Bear)
Screenings
Ana + yek - dir. Zohra Benhammou (Mirage)
Apple Cider Vinegar - dir. Sofie Benoot (Inti Films)
Beast! (Lionheart Productions)
Bye Mom! - dirs. Ellen Pollard and Marie De Hert (Borgerhoff & Lamberigts Tv)
The Diagonal Force - dirs. Annik Leroy and Julie Morel (Auguste Orts)
Engel's Dream - dir. Peter Woditsch (Sophimages)
Forbidden Pilgrimage - dir. Ellen Vermeulen (Inti Films)
A Hiphop Minute - dir. Pascal Garnier (Animal Tank)
Holly - dir. Fien Troch (Prime Time & Mirage)
Holy Rosita - dir. directed by Wannes Destoop (De Wereldvrede)
How Do You Spell Home - dir. Louisiana Mees (Diplodokus)
J'aime la vie - dir. Mathias Sercu (Lunanime)
Jan Hoet - The Adoration of the Mystic Lamb - dir. Luc Vrydaghs (Menuetto)
The Jacket - dir. Mathijs Poppe (Mirage)
Kamay - dirs. Ilyas Yourish and Shahrokh Bikaran (Clin d'oeil films)
Life Will Give You Pictures - dir. Aldine Reinink (Zonderling)
Paradigma - dir. Jozef Devillé and Pablo Eekman (Las Belgas)
Skunk - dir. Koen Mortier (Czar Film & TV)
Slave Island - dirs. Jimmy Hendrickx and Jeremy Kewuan (Harald House)
This Is My Moment - dir. Lieven Corthouts (Cassette for timescapes)
Yalla, Baba! - dir. Angie Obeid (Savage Film)
yours - dirs. Sirah Foighel Brutmann, Eitan Efrat, Eva Giolo, Katja Mater, Maaike Neuville and Rebecca Jane Arthur (Kunstencentrum Nona)
Series
Project Pitches
Arcadia S02 - dir. Joël Vanhoebrouck (jonnydepony)
Exit Tales - dir. Mariana Cadenas (Storyhouse)
In The Dark, The Mysterious Case of the Belgian Triangle - dirs. Bram Conjaerts and Maarten Bernaerts (Diplodokus)
Roomies S02 - dirs. Kato De Boeck and Flo Van Deuren (De Wereldvrede)
Works In Progress
Alter Ego - dir. Frederike Migom and Mathieu Mortelmans (A Team Productions)
Chameleon - dir. Safi Graauw (De Mensen)
Hamsters - dir. Laura Janssens (Haptic)
Hawa & Adam - dir. Mathias Brouns (jonnydepony)
Juliet - dir. Anke Blondé (Eyeworks Film & TV Drama)
Moresnet - dir. Frank Van Passel (Lompvis)
She They Us - Towards an Equal Future - dirs. Zaïde Bil, Ischa Clissen, Heleen Declercq and Sam Peeters (Cassette for timescapes)
Styx - dir. Jeroen Dumoulein (Eyeworks Film & TV Drama)
The Vatican - dir. Kat Steppe (Panenka)
Trizombie - dir. Bob Colaers (A Team Productions)
Screening
3Hz S03 - dir. Sander Brants (De Mensen)
Barber Aziz - dir. Yahya Terryn (W2)
The Cinderella Murder - dir. Kaat Beels (Eyeworks Film & TV Drama)
The Club - dir. Toon Slembrouck (Les Gens)
DNA - dirs. Lennart Stuyck and Maarten Stuyck (Diplodokus)
Draw for Change! - dirs. Alaa Amer, Alisar Hasan, Nada Riyadh, Anna Moiseenko, Sama Pana, Karen Vázquez Guadarrama and Laura Nix (Clin d'oeil films)
Exes - dir. Pieter Van Hees (Wilder Content)
Hacked S02 - dir. Leni Huyghe (Dingie)
Hilly-Skate - dir. Mathijs Eerdekens and Sander Brants (De Mensen)
Kids on the Block - dir. Sarah El Kasmi (A Team Productions)