First look at Martin Freeman and Anthony LaPaglia in 1960s drama.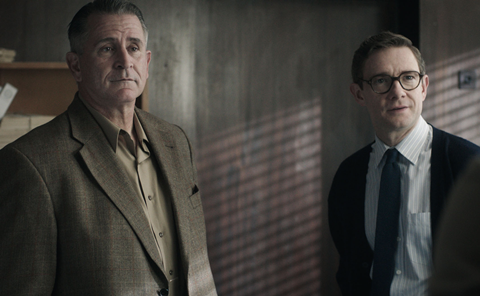 Content Media has picked up international sales rights to The Eichmann Show starring Martin Freeman and Anthony LaPaglia and will introduce at AFM (Nov 5-12).
The story tells the behind-the-scenes story of how a blacklisted TV director and an innovative producer teamed up to capture the courtroom testimony of the Adolf Eichmann, the Nazi labelled the architect of the Final Solution.
The production of The Eichmann Show will recreate the 1961 trial and use original footage.
Rebecca Front, Andy Nyman and Nicholas Woodeson round out the main cast.
Paul Andrew Williams directs from a screenplay by Simon Block. Producers are Laurence Bowen and Ken Marshall for Feelgood Fiction and the BBC.
"We have a duty to never forget and Paul, Laurence, Ken and Simon have created an astonishingly powerful and unique way to tell this extraordinary story incorporating real footage from the trial," said Content Media president of film Jamie Carmichael.
. "It will feel live."
"This is a film about an important political and cultural moment that changed history," said Williams. "A drama about a piece of secret history and the underappreciated achievements of some very extraordinary people who bought the horrors of the Holocaust to the world so that we could bear witness to the strength of human spirit under the tyranny of the Nazis. It's an honour to be directing it."
"The extraordinary story of how the Eichmann trial came to be televised and shown around the world has never been told," said Bowen. "By allowing Holocaust survivors to share their stories with a huge viewing audience, it unblocked a whole strata of shame and denial. It literally changed history."