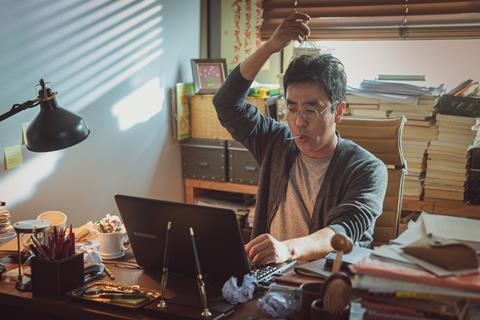 South Korean sales company Contents Panda is launching international sales on Perhaps Love (aka Not On My Lips), the directorial debut of Cho Eun-ji, who is well-known as a character actress from Cannes titles such as Im Sang-soo's The President's Last Bang and Jung Byung-gil's The Villainess.
Described as a sort of comedic, Korean Love Actually, the multi-character romantic comedy stars Ryu Seung-ryong from hit thriller Extreme Job, Oh Na-ra (Because I Love You), Kim Hie-won (Pawn), Lee You-young (Diva), Sung Yu-been (Moonlit Winter) and MuJin-sung.
Perhaps Love features stories about a best-selling writer stuck in a slump who encounters an aspiring young writer who confesses her love for him; his 19-year-old son who meets the young married woman living next door; and the writer's best friend and publisher who meets his friend's ex-wife.
Produced by Belief, the film is in post-production with plans for local release in November.
Contents Panda also has Soulmate, the Korean remake of Derek Tsang's 2016 Chinese film about two girls whose firm friendship is tested by time and matters of the heart.
Directed by Min Yong-keun (Re-encounter) and starring Kim Da-mi (TV's Itaewon Class), Jeon So-nee and Byeon Woo-suk, Soulmate is produced by Climax Studio and Studio&NEWS and is currently in post-production.