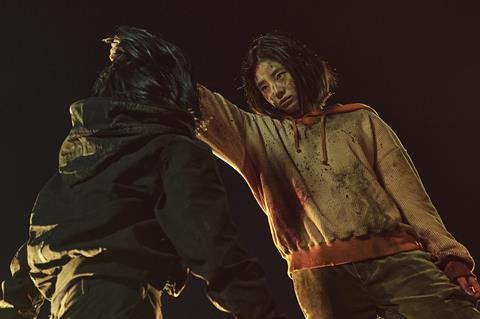 South Korea's Contents Panda has sold action sequel The Witch: Part 2. The Other One to 124 countries including to Spendid Film for Germany, Benelux and Poland.
Director Park Hoon-jung's follow-up to his 2018 Warner Bros-backed sci-fi action mystery The Witch: Part 1. The Subversion, the sequel stars Shin Sia as another girl with unnamed powers who escapes from a top-secret laboratory, pursued by multiple violent groups.
The film has also sold to China (Pumpkin Film), Japan (Twin), CIS and the Baltics (Volgafilm), Latin America (Tulip Pictures), Taiwan (Movie Cloud), the Middle East and North Africa (Krisco Media), India (Star Entertainment), Mongolia (The Filmbridge), Indonesia, Singapore, Vietnam, Malaysia, Hong Kong, Cambodia and Thailand (Clover Films) and, as previously announced, North America, the UK, Ireland, Australia and New Zealand (Well Go USA Entertainment).
Summer release
Produced by Goldmoon Film and backed and locally distributed by NEW, The Witch: Part 2. The Other One will be released in Korea on June 15.
Contents Panda has coordinated with distributors to open the film in 11 countries soon after, with North America and Mongolia to see the film in theatres on June 17.
Indonesia will see the film's release on June 29, Singapore on June 30, Vietnam and Taiwan on July 1, Cambodia on July 11, Hong Kong and Thailand on July 21 and Malaysia on July 28.
"Fans worldwide have been anticipating the next chapter in the story, and this film is more than worth the wait, from the top-notch action and special effects to the excellent acting and mind-bending storyline," said Doris Pfardrescher, president and CEO of Well Go USA Entertainment.
Buyers in other territories also noted the popularity of the original and remarked upon the action, thrills, visual effects and horror in the franchise. "The Witch: Part 1 was start[ed] from a limited theatrical release, gradually becoming a big hit at OTT market in Japan. We are excited to distribute The Witch: Part 2 and I am sure that Japanese audiences cannot wait to see this powered-up sequel," said Keizo Kabata, managing director at Twin.
The film also features Kim Da-mi from the original, Lee Jong-suk, Park Eun-bin, Sung Yu-been, Jo Min-soo and Jin Goo.
It currently holds the top spot in South Korea for advance ticketing with 33%, according to the Korean Film Council (KOFIC). Top Gun: Maverick, which Lotte Entertainment is set to release June 22, follows with 22% and Disney's Lightyear has 14.6%.