Corn Island wins Crystal Globe at the Karlovy Vary International Film Festival; Elle Fanning wins best actress prize.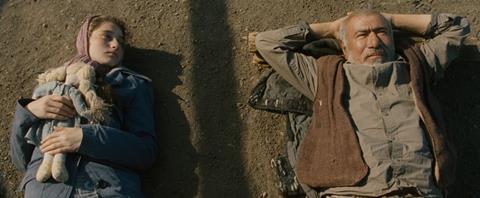 George Ovashvili's Corn Island, a mostly silent portrait of an old man and his granddaughter attempting to grow crops on a small patch of land in the middle of a river, has picked up the Crystal Globe at the 49th Karlovy Vary International Film Festival (July 4-12).
The prize, awarded on the closing night of the festival in the Czech spa town, included $25,000 to be shared between director Ovashvili and the film's producer.
Earlier in the day, it was announced that Corn Island had won the Ecumenical Jury Award.
Gyorgy Palfi's Free Fall, which tells the stories of characters over several floors of an apartment building, picked up several awards including the Special Jury Prize worth $15,000.
The Hungary-France-South Korea co-production also won Palfi the Best Director Award and the Europa Cinemas Label Award for the best European film in official selection.
Elle Fanning picked up the best actress for her role in US film Low Down, with director Jeff Preiss able to accept the award on her behalf.
Special festival guest Laura Dern made an appearance to present the award to best actor - though she momentarily thought the recipient of the award would be perennial ceremony host Marek Eben. Luckily, winner Nahuel Pérez Biscayart, the young star of David Lambert's All Yours, was in attendance to make sure it went to the right person.
Festival organisers revealed that KVIFF was attended by 12,433 accredited visitors. This included 478 filmmakers and 825 film professionals.
A total of 130,987 tickets were sold for 478 screenings of 245 films. These were made up of 173 features, 43 shorts and 29 documentaries.
The 50th KVIFF will be held from July 3-11 2015.
Karlovy Vary 2014 winners
GRAND PRIX – CRYSTAL GLOBE ($25 000)
Corn Island / Simindis kundzuli
Directed by: George Ovashvili. Georgia, Germany, France, Czech Republic, Kazakhstan, 2014
SPECIAL JURY PRIZE ($15 000)
Free Fall / Szabadesés
Directed by: György Pálfi , Hungary, France, South Korea, 2014
BEST DIRECTOR AWARD
György Pálfi for the film Free Fall / Szabadesés
Hungary, France, South Korea, 2014
BEST ACTRESS AWARD
Elle Fanning for her role in the film Low Down
Directed by: Jeff Preiss USA, 2014
BEST ACTOR AWARD
Nahuel Pérez Biscayart for his role in the film All Yours / Je suis à toi
Directed by: David Lambert ,Belgium, Canada, 2014
EAST OF THE WEST AWARD ($20 000)
Corrections Class / Klass korrektsii
Directed by: Ivan I. Tverdovsky Russia, Germany, 2014
SPECIAL MENTION
Barbarians / Varvari
Directed by: Ivan Ikić, Serbia, Montenegro, Slovenia, 2014
BEST DOCUMENTARY FILM OVER 60mins ($5 000)
Waiting for August
Directed by: Teodora Ana Mihai, Belgium, 2014
SPECIAL MENTION
Steadiness / Sitzfleisch
Directed by: Lisa Weber ,Austria, 2014
BEST DOCUMENTARY UNDER 30mins ($5 000)
Autofocus
Directed by: Boris Poljak , Croatia, 2013
SPECIAL MENTION
The Queen / La reina
Directed by: Manuel Abramovich, Argentina, 2013
FORUM OF INDEPENDENTS AWARD
The winning film will be purchased by Czech Television for the flat fee of 5000 EUR.
Anywhere Else / Anderswo
Directed by: Ester Amrami, Germany, 2014
AUDIENCE AWARD
The Magic Voice of a Rebel / Magický hlas rebelky
Directed by: Olga Sommerová, Czech Republic, 2014
CRYSTAL GLOBE FOR OUTSTANDING ARTISTIC CONTRIBUTION TO WORLD CINEMA
Mel Gibson, USA
William Friedkin, USA
FESTIVAL PRESIDENT'S AWARD FOR CONTRIBUTION TO CZECH CINEMATOGRAPHY
Zdeněk Svěrák, Czech Republic
The non-statutory jury awards were also announced in a ceremony earlier in the day:
Award Of International Film Critics (Fipresci)
Rocks in My Pockets/ Rocks in My Pockets
Directed by: Signe Baumane USA, Latvia, 2014
The Ecumenical Jury Award
Winner: Corn Island / Simindis kundzuli
Directed by: George Ovashvili, Georgia, Germany, France, Czech Republic, Kazakhstan, 2014
Special Mention: Rocks in My Pockets
Directed by: Signe Baumane USA, Latvia, 2014
FEDEORA Award (For the best film from East of the West – Competition)
Winner: Bota / Bota
Directed by: Iris Elezi, Thomas Logoreci, Albania, Italy, Kosovo, 2014
Special Mention: Correction Class / Klass korrektsii
Directed by: Ivan I. Tverdovsky Russia, Germany, 2014
Europa Cinemas Label Award
Free Fall
Directed by: György Pálfi Hungary, France, South Korea, 2014