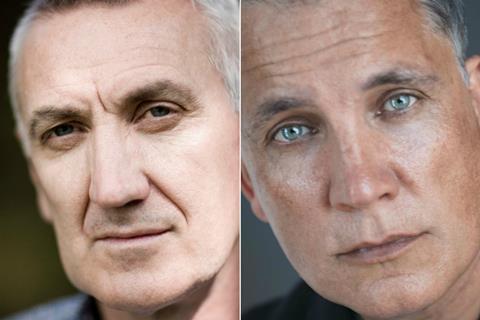 White Star Productions, a recently launched UK film and TV production venture based in Liverpool and backed by AGC Studios founder Stuart Ford, has announced its initial slate of projects.
Film and TV writer, author and journalist Kevin Sampson co-owns and operates the company, whose mission is to champion stories from the north of England and bring them to the screen. It has a first-look deal with Los Angeles-based AGC Studios.
White Star is currently casting the feature Giant from writer-director Rowan Athale (The Rise), based on the meteoric rise of Irish boxing trainer Brendan Ingle and Naseem Hamed, the British-Yemeni fighter who went on to win multiple featherweight and bantamweight world titles.
Ingle was a steel industry worker who established a boxing dynasty when he started a gym in a tough part of Sheffield. He went on to receive the MBE for his work with young fighters from the city, and was noted for his refusal to accept racial prejudice.
White Star is in development on Looking For Love, based on author Dave Haslam's account of US rock icon Courtney Love's spiritual journey to Liverpool as a teenager in the early 1980s.
Emerging from a correctional institute in 1982 and inspired by Liverpudlian pop luminaries Holly Johnson and Pete Burns, Love overcame early years of neglect and rejection to find her voice in post-punk Liverpool.
UK producer Colin Vaines (Film Stars Don't Die In Liverpool) will co-produce Sampson's screen adaptation with White Star.
White Star is also in advanced stages of development on two other Liverpool-based projects.
Writer-director Helen Walsh's (The Violators) has adapted her coming-of-age novel Brass with support from the Liverpool Production Fund and Hurricane Films' Roy Boulter and Sol Papadopoulos on board as co-producers.
Sampson is also writing Militant, a 1980s-set TV drama which he describes as Our Friends In The North meets House Of Cards.
White Star's ambitions are in step with the broader growth of Liverpool City Region as a media and content production hub.
The city is doubling as Gotham in Matt Reeves' The Batman, while the iconic art deco Littlewoods Building is being transformed into Liverpool Film Studios, with Twickenham Studios confirmed as anchor tenant.
With TV series like Tin Star (Sky Atlantic) and War Of The Worlds (Studiocanal/Fox/AGC Studios) returning to Merseyside, industry observers are hopeful that the newly launched Liverpool Production Fund will further develop the production sector in the city.
Sampson is the author of numerous novels including Powder. His screenwriting credits include Surveillance and Awaydays (Studiocanal), and mini-series Anne (World Productions/ITV), set to debut in 2021.
Liverpool-born Ford launched AGC Studios in 2018 with backing from Silicon Valley, Abu Dhabi and Latin America. The company has produced, backed and/or handled sales on the likes of Midway, Breaking News In Yuba County, Voyagers, Moonfall, John Lewis: Good Trouble, TV show War Of The Worlds and Amazon's upcoming News Of A Kidnapping.
Prior to that Ford launched and ran IM Global from 2007-17, working with Martin Scorsese on Silence, Mel Gibson on Hacksaw Ridge, Julia Roberts on Secret In Their Eyes, and Tom Ford on A Single Man, as well as the Paranormal Activity and Insidious franchises.